Homemade Tomato Sauce Recipe
Braydon S., culinary student
Charleston, SC


Use this homemade tomato sauce recipe on pasta, in lasagna, on pizza, and in other tomato sauce dishes.
What you need
15 tomatoes, cored and quartered (they don't need to be peeled)
2 onions, small-diced
3 carrots, small -diced
3 stalks celery, small-diced
4 cloves garlic, peeled, whole
½ cup olive oil
Chicken or vegetable stock (homemade or canned)
2 bay leaves
½ bunch fresh thyme, chopped (to taste)
Fresh basil and oregano, optional (to taste)
Salt and pepper (to taste)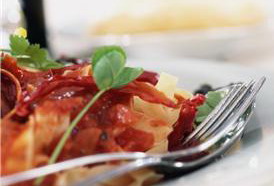 What to do
Heat olive oil in oversize pot. Sauté garlic in oil to infuse its flavor with the oil. Add onions, celery, and carrots. Cook slowly until vegetables are translucent.
Add tomatoes and bay leaves. Work them into the mixture.

Add enough stock (12-16 ounces) to cover the sauté mixture. Cook sauce slowly, until tomatoes have released all their juices, to let flavors develop.
Add stock until sauce reaches your preferred consistency (some people prefer thicker sauce; others prefer thinner).
Remove half the sauce from the pot. Puree it in a food processor on a slow speed. (High speed whips air into the sauce, which is not desirable).
*** Be careful. Hot liquid expands.
Fold puree back into the remaining sauce.
Add fresh herbs, salt and pepper to taste.
Serve and enjoy!
Share your fresh tomato recipes with Tomato Dirt readers ...



Other fresh tomato recipes
Fresh Tomato Spaghetti Sauce recipe ...


Tomato Bruschetta recipe ...


8 Layer Dip recipe ...


Guacamole recipe with fresh tomatoes ...


Fresh Tomato Salsa recipe ...


Tomato Skillet with Fresh Veggies ....


Fried Green Tomato recipe ...


Tomato Mozzarella Tidbits ...


The tomato sandwich: one way to make a southern classic ...


Roasted Corn Tomato Salad ...



More pages on cooking with fresh tomatoes
How to prepare tomatoes to use in cooking ...


Tomato recipe equivalents to use in cooking ...



Return from Homemade Tomato Sauce Recipe to Tomato Dirt home
By Kathy Widenhouse, award-winning writer and owner of Tomato Dirt, a leading online source for growing tomatoes and using them.
As an Amazon Associate and Rakuten Advertising affiliate I earn from qualifying purchases.
---
SHARE THIS PAGE: