Early Girl Tomato
, a medium-sized globe, has been a wildly popular hybrid tomato variety on the market for more than 35 years.

But it took a fight to get her into American gardens.

It was horticulturist Joe Howland who led the charge to find and develop a short-season tomato that had flavor – and was able to withstand large temperature shifts.

In the 1970s, Howland served as chairman of Pan American Seed Company and on the board of directors for PetoSeed Company, the world's largest supplier of tomato seed for agriculture. His passionate request for PetoSeed to breed a short-season tomato was squelched. PetoSeed, argued others in the company, didn't do business with home gardeners. So a short-season tomato wouldn't be cost-effective.

Still, Howland believed that a tasty, reliable short-season tomato would become gardener's gold to the company fortunate to develop and distribute it.
A new short-season tomato is born
He was proved correct. In 1974, Howland learned about a short-season tomato developed in France that not only was packed with flavor, but was attractive and able to tolerate temperatures as low as 40 degrees. A deal was made between W. Atlee Burpee Company and PetoSeed for exclusive rights to sell seed for the new tomato. Burpee featured the tomato (which Howland nicknamed "Early Girl" to complement Burpee's successful "Better Boy" variety) on the cover of its 1975 spring catalog. Sales soared.

American breeders made modifications to the original tomato, which continues to be one of the most popular varieties for the home garden. In a Sunset Magazine reader poll, Early Girl was voted favorite tomato in both 1993 and 1997.
What gardeners think about Early Girl Tomato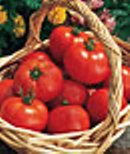 Photo: Burpee
Early Girl
is valued because it is an early-ripening slicing tomato packed with flavor (not usually a strength with early-season varieties) – but also for its dependability.

"If you're usually averse to F1 hybrids," says one gardener, "but would like to maybe have just ONE reliable early hybrid as a backup in case your OP varieties don't do well, then this is the early hybrid to get."

These days, Early Girl Tomato is developing a cult following among those who favor dry-farmed tomatoes – a technique in which the gardener holds back watering the plant after transplanting to force roots deeper and produce a more concentrated flavor in the fruit. Dry-farmed Early Girls are gaining enormous popularity in California, particularly in the San Francisco Bay area. Their flavor has been placed on par or even surpassing the most-respected heirloom tomatoes.

Early Girl's disease resistance and adaptability mean it performs well in almost every kind of climate. Its little sister, Bush Early Girl, has even greater disease resistance and produces fruit that ripen 4-5 days earlier – all on a compact, dwarf plant that flourishes in containers.

As an extra bonus, Early Girl tomatoes are considered to be especially high in vitamins A and C.


Buy Early Girl seeds. Click here
.
Buy Bush Early Girl seeds or plants. Click here
.
Buy Bush Early Girl organic plants. Click here
.



Early Girl Hybrid Tomato
Indeterminate
Type: Hybrid
Origin: West Virginia, USA
Days to maturity: 57-59 days
Season: Early season
Foliage/habit: medium cover, regular-leaf foliage, grows in clusters of 2 or 3
Fruit color: bright red
Fruit shape/size: globe, slightly flattened, 5-6 ounces
Disease resistance: V (Verticillium Wilt), FF (Fusarium Wilt, races 1 and 2)
Yield: high
Taste: flavorful, meaty, lots of aroma
Other strains: Bush Early Girl: same desirable qualities in its bigger sister, but in a compact habit that works great on the patio or in containers. Plus Bush Early Girl's disease resistance is even stronger: VFFNT. Determinate.
More Tomatoes of the Month

Tomato of the month: fun and interesting tomatoes ...

Amish Paste Tomato ...

Anna Russian Tomato ...

Better Boy Tomato ...

Brandywine Tomato ...

Celebrity Tomatoes ...

Fourth of July Tomato ...

Green Zebra Tomato ...

Jet Star Tomato: prolific, disease-resistant, low-acid ... Mortgage Lifter Tomato ...

Purple Haze Tomato ...

San Marzano Tomatoes ...

Sweet 100 Tomato ...

Yellow Pear Tomato...



Return from Early Girl Tomato to Tomato Dirt home
By Kathy Widenhouse, award-winning writer and owner of Tomato Dirt, a leading online source for growing tomatoes and using them.
As an Amazon Associate and Rakuten Advertising affiliate I earn from qualifying purchases.
---
SHARE THIS PAGE: