Read our affiliate disclosure here.
What In The World Is On My Tomato Stems?
by Pat
(Newburgh, IN)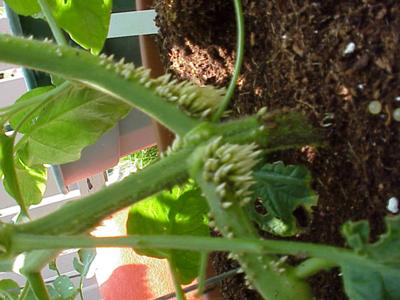 Q. This plant is only a month old. It is Brandy Boy Hybrid. I got it from Burpee. It's growing fast and has lots of flowers on it. But now it's got these funny looking spots on the stems. What are they and what can I do?

A. Looks like your plant has root initials (also called adventitious roots or tomato stem primordial.) They are the earliest stage of development of a tomato's roots. Most of the time, bumps are not harmful to tomato plants and are considered normal.

Often they emerge as a result of stress, particularly water-related stress. Occasionally, root initials can be a sign of other problems, so keep a close check on your plants. Look for signs wilting, browning leaves, stunted growth, black stem streaks, or brown plant tops.

When root initials make contact the soil, they will grow. Mound compost around root initials on the lower part of the plant. They will develop into full-blown roots, strengthening the plant's root system.

Learn more about bumps on tomato stems (root initials), what causes them, how to prevent them, and how to treat them.

Good Luck and Happy Gardening!
Your friends at Tomato Dirt
By Kathy Widenhouse, award-winning writer and owner of Tomato Dirt, a leading online source for growing tomatoes and using them.
As an Amazon Associate and Rakuten Advertising affiliate I earn from qualifying purchases.
---
SHARE THIS PAGE: