Read our affiliate disclosure here.
Tomato Base: Basic Tomato "Product" Holds Until Next Year
by Igor Gradov, Jr.
(Guerneville, CA)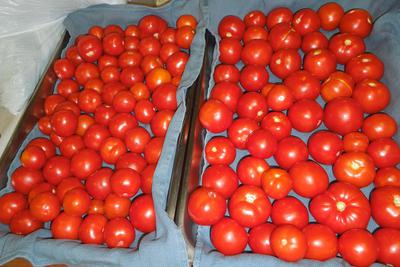 This recipe covers the "Basic Tomato Product" that I can use as a base for any culinary flavor... Italian, Mexican, Hungarian, anything! And the best thing is it will last in the canning jars without refrigeration until your next year's harvest!

Ingredients
About 5 -6 pounds of tomatoes
4 onion
2 whole garlic (peeled)
Olive oil
Salt & Pepper

What to do



Combine tomatoes, onion, and garlic in a roasting pan. Drizzle with olive oil. Sprinkle with salt and pepper.

Roast at 425 F until crispy on top.

Puree in a blender until smooth. You will need to puree this amount in several batches.

Use sterile canning method to store. (See how to can tomatoes.)

Join in and write your own page! It's easy to do. How? Simply click here to return to Share Your Fresh Tomato Recipe.
By Kathy Widenhouse, award-winning writer and owner of Tomato Dirt, a leading online source for growing tomatoes and using them.
As an Amazon Associate and Rakuten Advertising affiliate I earn from qualifying purchases.
---
SHARE THIS PAGE: