Read our affiliate disclosure here.
Stalks are brown and leaves turn brown and dry up
by Pete
(Flagstaff, AZ)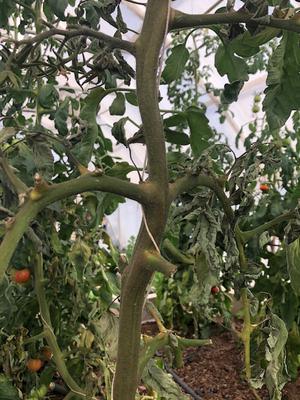 Tomato plants with brown/dying stems
These tomatoes are grown in a greenhouse at 6400' in Juniper Pinon country in northern AZ. Daytime temperatures get into the mid-90s. There is a misting system that keeps the temps in the low to mid 80s-90 and certainly cooler than outside. Tomatoes are in deep beds and get watered at the base of the plants 3 days apart for 10 minutes by a dripper, generally early in the morning.

Granted this is a stressful situation for tomatoes. However, we have been doing this setup for 15 or so years.

Now we have two plants that are 5 feet tall with browning stems and leaves. The plants have been in the ground since April 15 and are and have been producing nice fruit. The plant in the photo with no fruit was recently harvested. We got some nice red and ready tomatoes and green tomatoes off of it. The plant with some fruit has just started the browning process. The other plants in the bed are not affected yet.

The weather is hot and dry and we would hope to be in our monsoon season, when everything loves the humidity and it turns into a jungle! The stems are not mushy and seem normal.
As an Amazon Associate and Rakuten Advertising affiliate I earn from qualifying purchases.
---
SHARE THIS PAGE: