Read our affiliate disclosure here.
Growing Indoor Tomatoes FAQs: Frequently Asked Questions
Tomato Dirt answers readers who need information for growing indoor tomatoes FAQs.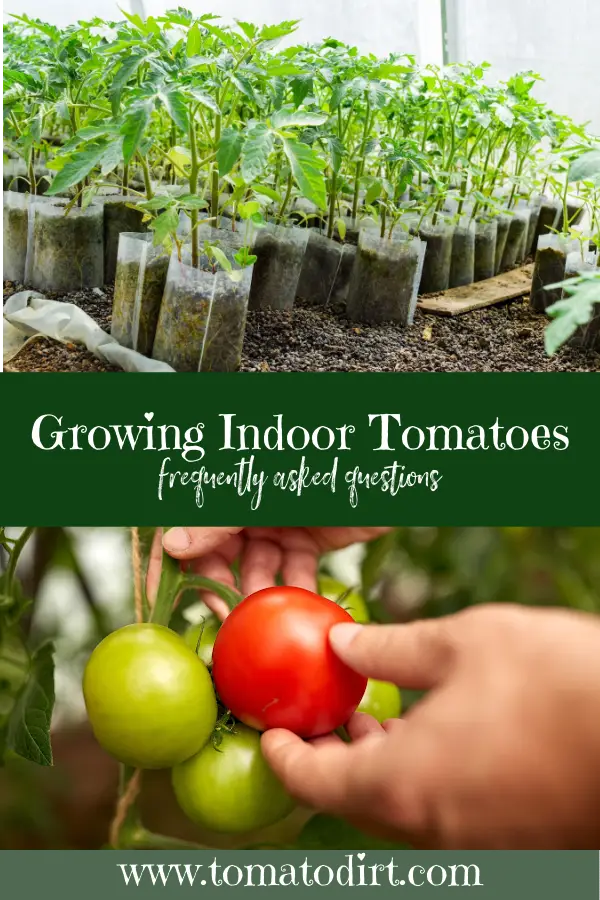 Q. What are light source options when I grow tomatoes indoors?

A. Grow tomatoes on a windowsill, under grow lights, or in a green house.


Q. How warm must I keep my indoor growing area?

A. Tomatoes grow best when the indoor temperature is 75-85ºF, but you can get by with setting your thermostat at 65ºF. (Don't go lower than that, however.) You can help keep your plants warm by placing them on a seedling heat mat or running a space heater in the growing area.

Q. How long should I run my tomato grow lights each day?

A. 12-16 hours.


Q. If I keep plants under lights for 24 hours a day, will they grow faster?

A. No. Tomato plants need at least 6-8 hours of darkness each day. Turn off the lights at least part of the time.

Q. How do I know when to replace my growing light lamps?
A. Each lamp type has a designated life span, expressed in number of hours used. While the lamp may not fail as it ages, it loses output capability. Replace lamps as they approach the designated number of hours used.


Q. How much is the electrical cost to running a tomato grow light system?

A. Here's how to calculate cost per hour:

Q. When can I grow tomatoes indoors?


A. Anytime.
---
More on growing tomatoes indoors
How to grow indoor tomatoes ...

Best indoor tomato varieties ...
How to grow winter tomatoes: 3 options ...
How to take tomato cuttings to grow indoors ...

How to grow tomatoes on a windowsill indoors ...

Tomato grow lights explained ...

Using fluorescent grow lights to start seeds, grow tomatoes ...

How to identify and control indoor tomato pests ...

Get more tips on our Indoor Tomatoes Pinterest board...
Return from Growing Indoor Tomatoes FAQs to Tomato Dirt home
By Kathy Widenhouse, award-winning writer and owner of Tomato Dirt, a leading online source for growing tomatoes and using them.
As an Amazon Associate and Rakuten Advertising affiliate I earn from qualifying purchases.
---
SHARE THIS PAGE: