Read our affiliate disclosure here.
Couer d'Boeuf: Large, Red and Slightly Ribbed
by Ed
(Yuba City, CA)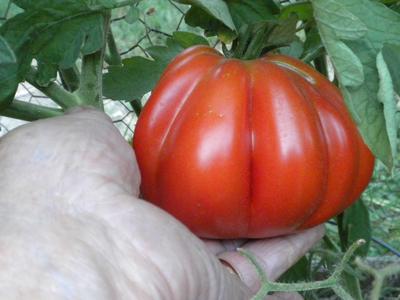 Couer d' Boeuf
In 2004 we spent several days in the Luberon area in the south of France, Gordes to be precise. The owner of our lodging was a tomato aficionado and suggested that we try a local favorite available at farmer's markets. Its name, Coeur d' Boeuf in French (beef heart in English, but unlike our U.S. tomatoes of similar names).

We bought some at a farmer's market and dried seeds for planting here in California. It became our favorite the next year. It is a large, fairly early ripening, a great slicer for BLT sandwiches, and prolifically bore fruit until frost killed the plants. Seeds are available at TM Seeds (Thompson-Morgan, grown in Italy) and other suppliers. Saved-seeds reproduce fruit like their parents but can be altered to a large cherry if grown too close to Sweet 100 cherry tomatoes.

We lost most of our Coeur d' Boeufs last year as they had been grown in the same area of our garden for the third year. Rotating planting area after two-years or using large containers should eliminate the dreaded fusarium/verticillium wilt threat to these heirlooms. I trained all plants to about eight feet on trellises. I have seeds germinating for a dozen of the Coeur d' Boeuf this year. Just across the French Border in Italy this tomato is called Coure di Bue translating equal to the French name. We found the tomato featured prominently in Italian open markets.

This tomato ripens from the inside-out and can appear greenish, eventually ripening to a nice red before eaten. We prefer to leave ours on the vine until dead-ripe. Shoppers in Europe will probably find the greenish form at farmer's markets.

Join in and write your own page! It's easy to do. How? Simply click here to return to Your Favorite Tomato Variety.
By Kathy Widenhouse, award-winning writer and owner of Tomato Dirt, a leading online source for growing tomatoes and using them.
As an Amazon Associate and Rakuten Advertising affiliate I earn from qualifying purchases.
---
SHARE THIS PAGE: