Tomato Dirt Newsletter
Volume 6, Number 5
Dear Tomato Dirt reader,

Welcome back to Tomato Dirt! A couple of times a month, we'll send you this newsletter packed with tips about growing tomatoes and using them.
---
Special Coupons for Tomato Dirt Readers!
We love to save money - don't you? If you're getting ready for a new growing season, use these coupon deals specially offered for Tomato Dirt-ers. Offers are good through March 31 … browse, order, and save now.
15% off Mix and Match vegetable plants: use code AFFMM
99 cents on shipping all orders: use code AFF99
20% off all garden container vegetables: use code AFFGCV
---
Tomato Dirt is on Pinterest!
Join us on Pinterest! Browse our 100+ boards (and growing) for all kinds of tomato inspiration and practical information: growing tomatoes, tomato seeds, cold frames for tomatoes, tomato books, tomato greenhouses, , indoor tomatoes – even crafts to do with a tomato theme. Happy pinning!
---
FEATURE: Try These Four Colorful Tomato Varieties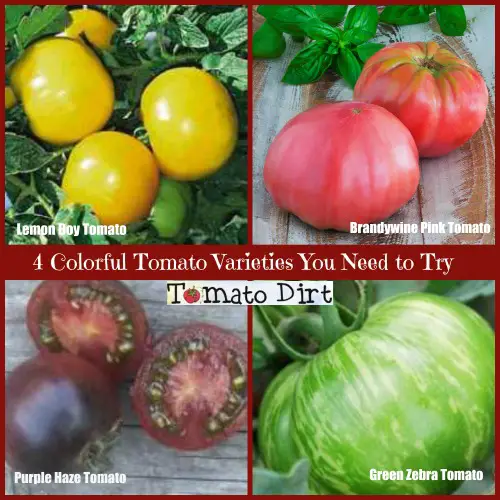 Image: Tomato Dirt

Not all tomatoes are red! If you haven't yet tried to grow tomatoes of other colors – or if you want to try some new varieties – then check out this short list of colorful favorites. Find out more about different tomato varieties and consider sharing about your favorite tomato varieties with fellow Tomato Dirt readers. And be sure to check out our Tomato Varieties board on Pinterest for more tomato inspiration.
---
Tomato Growing Tip #26: What Makes Tomatoes Red?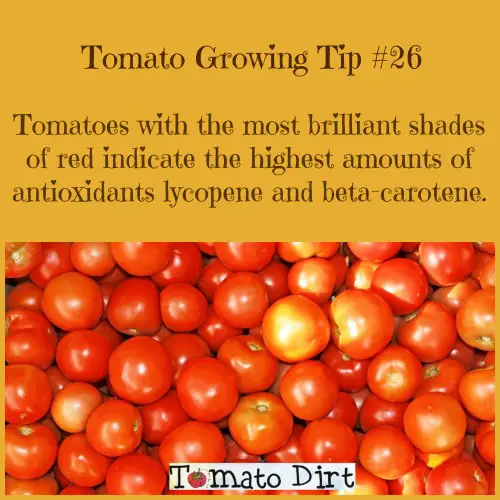 Image: Tomato Dirt
Get more tips for growing tomatoes on our Tomato Growing Tips Pinterest board.
---
Best Tips for Growing Tomatoes

---
Check Out These Colorful Tomato Collections
More about Understanding Tomato Varieties

That's it for now. More next time.

Until then, happy gardening!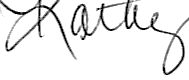 Kathy with Tomato Dirt
www.tomatodirt.com
Find us on Facebook!