Tomato Dirt Newsletter
Volume 5, Number 21
Dear Tomato Dirt reader,

Welcome back to Tomato Dirt! Once or twice a month, we'll send you this newsletter packed with tips about growing tomatoes and using them.
---
Heirloom Tomato Seeds Half-Price Now Through January 8
Beat the rush and get great deals! Choose from more than 350 favorite heirloom tomato varieties and tomato seed collections – up to 50% off regular retail prices during this once-a-year sale at TomatoFest.

Vist the TomatoFest store now to get best selection.
---
Tomato Dirt is on Pinterest!
Join us on Pinterest! Browse our 100+ boards (and growing) for all kinds of tomato inspiration and practical information: growing tomatoes, tomato seeds, cold frames for tomatoes, tomato books, tomato greenhouses, , indoor tomatoes – even crafts to do with a tomato theme. Happy pinning!
---
FEATURE: How to Choose Best Tomato Varieties for Your Garden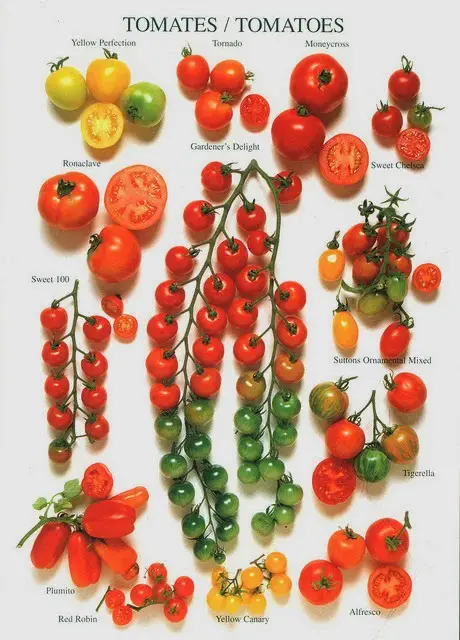 Image: Alternative Energy Gardning

How do you know which tomato varieties are best to grow in your area?

Great question. There's not a universal answer. But there's a way you can find out.

Here's the dirt: a type of tomato that flourishes for you in your garden maybe a bust for your cousin two states away. That's because different climates (even those with slight variations in temperature, rainfall, and air quality) and different soils produce different growing patterns from the same tomato variety.

Take these steps to find out which tomatoes will thrive best where you live.
Understand your region's vulnerabilities.
The first step is to find out which tomatoes are most successfully grown in your area. Ask local nursery owners, post a question on a local master gardener forum, or call your extension office to learn the names of favorite tomato varieties among local gardeners. While you're at it, you can also ask them which varieties stay the healthiest and most disease-resistant in local gardens. 
Understand disease resistant codes When a cultivar has been developed that is tested and confirmed to be resistant to a particular disease, it is given a designated letter (after its variety name) donating that disease. Multiple letters after a tomato variety name indicate that that type of tomato is resistant to more disease (all those indicated by the letters listed.) So the codes are a helpful tools in your hunt for best tomato varieties for your garden.
Understand and Use a Tomato Disease Resistance Table Once you know what tomato diseases are especially prevalent in your area and how those diseases are notated, you're ready to find out which tomato varieties are going to work for you. Look in an information bank which lists tomato diseases and corresponding tomato varieties that are resistant to those diseases, like Cornell University's Vegetable MD Online.
Learn more about choosing best tomato varieties that will work best in your garden … and get more ideas for tomato varieties on our Tomato Varieties Pinterest Board.
---
Tomato Growing Tip #21: Check Disease Resistance Codes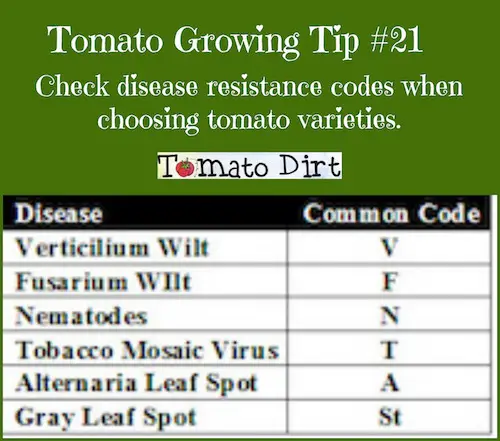 Image: Tomato Dirt
Get more tips for growing tomatoes on our Tomato Growing Tips Pinterest board.
---
Best Tips for Growing Tomatoes

---
Help Choosing Tomato Varietes
Check out these best-selling gifts for the gardener in your life.

You may want to consider growing these tomato varieties in your garden!
More Tips for Choosing Tomato Varieties

That's it for now. More next time.

Until then, happy gardening!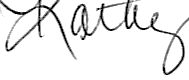 Kathy with Tomato Dirt
www.tomatodirt.com
Find us on Facebook!