Tomato Dirt Newsletter
Volume 7, Number 6
Dear Tomato Dirt reader,

Welcome back to Tomato Dirt! A couple of times a month, we'll send you this newsletter packed with tips about growing tomatoes and using them.
---
Build the Perfect Container Garden
Check out all the planter garden accessories you need for a successful container garden at MyPotsandPlanters.com - The #1 online store for container gardeners. PLUS, free shipping on almost everything + easy returns. Have fun browsing!

---
Tomato Dirt is on Pinterest!
Join us on Pinterest! Browse our 100+ boards (and growing) for all kinds of tomato inspiration and practical information: growing tomatoes, tomato seeds, cold frames for tomatoes, tomato books, tomato greenhouses, , indoor tomatoes – even crafts to do with a tomato theme. Happy pinning!
---
FEATURE: How Sweet It Is! Try These 3 Cherry Tomato Varieties




Cherry tomatoes have long been a favorite with gardeners. They're easy to grow and fun to pick. And because of their size, these tiny garden treats have concentrated flavor. Here are 3 cherry tomato varieties that have a sweet reputation. You may want to try them in your garden this year.
Gardeners Delight Cherry Tomato: "It's the best-flavored cherry tomato I've ever grown." With the flavor is that of an excellent large heirloom tomato and the classic cherry tomato size to snack on as you work in the garden, is it any wonder this indeterminate is nicknamed "Sugar Lump"?  To add kudos, Gardener's Delight it produces consistent results year after year, beginning with ripe fruit early in the season that continues until frost. Learn more about Gardeners Delight Cherry Tomato...
Sungold Cherry Tomatoes : "So sweet that even kids like it" and "Like a party in your mouth" – more than one gardener sings the praises of Sungold Cherry Tomatoes, a hybrid golden orange cherry tomato variety.  Add to that the fact that Sungold (sometimes written "Sun Gold") produces abundant fruit until frost with very few vulnerabilities to disease and you may just want to try this tomato variety in your garden. Learn more about Sungold Cherry Tomatoes ...
Sweet 100 Tomato: Some gardeners are so enamored with the taste that they call Sweet 100s "vine candy" and eat cherries straight off the plant. They're often used for snacking and salads but are suitable for cooking, freezing, and even pickling, too.But the "100" part of the name is a misnomer in the sense that it's too modest. Most plants of this variety produce not one hundred, but rather hundreds of fruit. More about Sweet 100 …
See more individual And check out our tomato profiles ... and check out our Cherry Tomatoes board on Pinterest for more cherry tomato ideas.
---
Best Tips for Growing Tomatoes

---
Tomato Growing Tip: Prevent Cracking in Cherry Tomatoes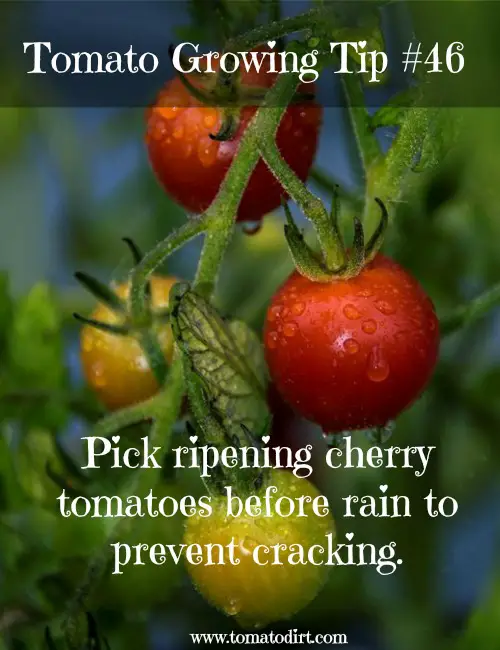 Image: Tomato Dirt
Get more tips for growing tomatoes on our Tomato Growing Tips Pinterest board.
---
Fun and Colorful Tomato Varieties
More About Tomato Varieties

That's it for now. More next time.

Until then, happy gardening!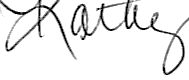 Kathy with Tomato Dirt
www.tomatodirt.com
Find us on Facebook!