Tomato Dirt Newsletter
Volume 5, Number 13
Dear Tomato Dirt reader,

Welcome back to Tomato Dirt! Once or twice a month, we'll send you this newsletter packed with tips about growing tomatoes and using them.
---
Are You Freezing - Or Wish You Were?
See the best-selling freezer-safe containers used by gardeners like you to freeze fresh produce. Take a look.

---

---
Tomato Dirt is on Pinterest!
Join us on Pinterest! Browse our 100+ boards (and growing) for all kinds of tomato inspiration and practical information: growing tomatoes, tomato seeds, cold frames for tomatoes, tomato books, tomato greenhouses, , indoor tomatoes – even crafts to do with a tomato theme, now that cold weather is here. Happy pinning!

---
FEATURE: So Easy! 6 Steps to Freezing Cherry Tomatoes
Image: Garden Betty
Cherry tomatoes are small, so it is impractical to peel them for canning. (If you did, there probably wouldn't be much tomato left after you discard the peels.)
That's why freezing cherry tomatoes is a simple way to preserve summer's freshness to use later in the year. You can freeze cherry tomatoes in small amounts or large quantities. It's a simple strategy for today's busy gardener. And you can do it fast.
Take these steps to freeze cherry tomatoes:
Choose ripe, unblemished cherry tomatoes.
Wash cherry tomatoes, remove stems, and drain them in a colander. Allow them to dry on paper towels, waxed paper, or a dish towel. If you freeze them with excess moisture on surfaces, they will accumulate frost.
Set cherry tomatoes onto a cookie sheet so that their skins do not touch. This way, tomatoes won't clump together and be difficult to separate when you are ready to use them.
Set the cookie sheet in the freezer for about an hour until the tomatoes are firmly frozen.
Remove the baking sheet from the freezer and place cherry tomatoes into freezer bags or freezer-safe containers. Remove the excess air from the bags and seal them tightly. Lay bags on their sides and jiggle them to allow tomatoes to settle.
Label bags with the date. You can keep cherry tomatoes in the freezer for a year, but they are best when used within 6 months.
Get more helpful info about freezing cherry tomatoes …
… and get more helpful tips for freezing tomatoes on our Freezing Tomatoes Pinterest Board.
---
Tomato Growing Tip #13: Defrosting Cherry Tomatoes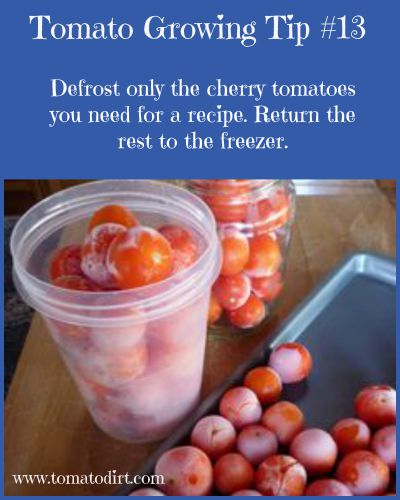 Image: Tomato Dirt
Get more tips for growing tomatoes on our Tomato Growing Tips Pinterest board.
---
Gear To Help You Freeze Tomatoes
More About Freezing Tomatoes

That's it for now. More next time!

Until then, happy gardening!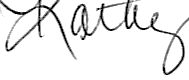 Kathy with Tomato Dirt
www.tomatodirt.com
Find us on Facebook!