Tomato Dirt Newsletter
Volume 3, Number 4
Dear Tomato Dirt reader,

Welcome back to Tomato Dirt! Once or twice a month, we'll send you this newsletter packed with tips about growing tomatoes and using them.
------------------------------------------------------------------
Tomato Dirt is on Pinterest!
Join us on Pinterest! Browse our 19+ boards for all kinds of tomato inspiration and practical information: exciting tomato gardens, tomatoes just off the vine, different tomato varieties, tomato art – even gardening quotes. Check our our page. Happy pinning!

FEATURE: How Tomatoes Are Classified By Shape
Part 3 in the Series: How Tomatoes Are Classified
Image: www.goodtaste.tv
There are at least 3 different (and simple) ways gardeners classify tomato varieties. These classifications help you know which tomatoes are best for your garden and your situation.
This third article of three explains the way tomatoes are classified according to their shape. (In the last two issues, we talked about classifying tomatoes according to their genetic line – hybrid tomatoes and heirloom tomatoes and according to the length of time they produce fruit during the season – determinates and indeterminates.)
Looks count – even for tomatoes! Whether a tomato is a hybrid or an heirloom, or determinate or indeterminate, it is also classified according to its shape. There are four broad shape classifications for tomatoes:
Globe tomatoes: the most heavily commercially-cultivated fruit; smaller than beefsteaks
Beefsteak tomatoes: the biggest fruit
Paste tomatoes: thick-walled fruit, used to make sauces
Cherry tomatoes: smallest fruit; includes grape tomatoes
As you choose which tomatoes to grow this season, consider how you like to use tomatoes. Globe and beefsteak tomatoes work well for snacking, sandwiches, and in canning. Cooks prefer paste tomatoes for cooking and sauces. Cherry tomatoes are ideal for snacking and salads.
Read more about the ways tomatoes are classified so that you can make the best choices for your garden.
-----------------------------------------------------------------
When to Start Tomato Seeds in Your Area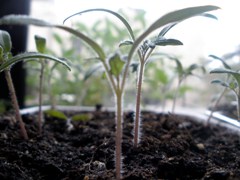 Image: www.deeprootsathome.com

Timing your tomato seed starting is not a one-size-fits-all. Much depends on your climate.

Use these 2 easy steps to calculate the best time to start your seeds where you live.
Determine the last frost date for your region. If you're not sure, contact your local extension office. You can also view the freeze/frost information provided by the National Climatic Data Center. Select your state from the drop-down list. On the opened chart, choose the city closest to you. You'll see the average last frost dates for spring (and first frost for fall) dates – among plenty of other data.
Count back 4-6 weeks from the last frost date for your region to know when to start your tomatoes.
--------------------------------------------------------------
More on Starting Tomato Seeds ...

That's it for now. More next time!

Until then, happy gardening!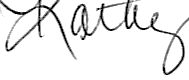 Kathy with Tomato Dirt
www.tomatodirt.com
Find us on Facebook!