Tomato Dirt Newsletter
Volume 11, Number 2
Dear Tomato Dirt reader,

Welcome back to Tomato Dirt! A couple times a month, we'll send you this newsletter packed with tips about growing tomatoes and using them.
---
Ready to Start Tomatoes?
Potting soil, peat pots, cell trays … make sure you have what you need to start seeds for your garden. Take a look at seed starting gear used by gardeners like you!
---
Tomato Dirt is on Pinterest
Join us on Pinterest! Browse our 100+ boards (and growing) for all kinds of tomato inspiration and practical information: growing tomatoes, tomato seeds, cold frames for tomatoes, tomato books, tomato greenhouses, , indoor tomatoes – even crafts to do with a tomato theme. Happy pinning!
---
FEATURE: What You Need to Start and Grow Tomatoes Indoors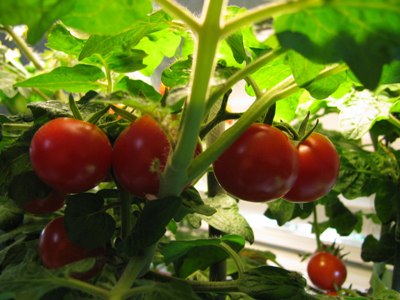 Image: www.smalltraygardening.net
Whether you're finishing out your growing season (southern hemisphere) or gearing up for spring (northern hemisphere), you can continue to enjoy fresh, luscious tomatoes throughout the cold months by growing them indoors.
You need just a few things …

An environment
A windowsill, grow lights, or a greenhouse. All three can work.
Light
Indoor tomatoes require 12-16 hours of light a day. Even plants in a sunny window or in a greenhouse may need a few extra hours under grow lights during winter's short days.
Heat
Indoor tomatoes grow best when the air temperature is between 65º-85ºF. If your house thermostat is set lower, your house is drafty, or your greenhouse isn't heated, keep plants warm with a space heater or seedling heat mat.
The right variety
Cherry or plum tomato indeterminate varieties perform best indoors. Small fruited plants (cherry or plum tomatoes) produce a large number of fruit and ripen quickly. Indeterminates continue to grow throughout the winter and will produce fruit in abundance.
Get more helpful details about growing tomatoes indoors here -- plus check out some FAQs about indoor tomatoes.
And be sure to check out some helpful pointers and visuals on our Growing Indoor Tomatoes Pinterest board.
---
Best Tips for Growing Tomatoes: Bestseller in 89 Countries
THE tomato-growing Bible and best-seller in 89 countries: How to Grow Juicy Tomatoes. Two horticulturalists combine forces to give you advice about the right way to prune, fertilize, water and stake tomatoes.

You'll be able to diagnose pest and disease problems using step by step priceless information, illustrated with 260 full color photos.

Get the book and you'll also get 6 free bonuses, including the Family Tomato Cookbook and a database of 1300 varieties of tomatoes. More details here.

---
Really – There Are That Many Kinds of Seed Starting Kits?
Seed-starting kits are an easy way to start your own tomato plants and other seedlings. Plus, there are so many kit options available including deep-root growing kits … quick start seed kits … special potting mixes.
Yep, there's a kit for that! See for yourself.
Plus, you can get replacement parts for seed starting trays, too. Our good friends at Gardener's Supply have all kinds of seed starting gear and will answer your questions. Check out their resources here.
---
Tomato Growing Tip: Make Sure Your Grow Lights Are Adjustable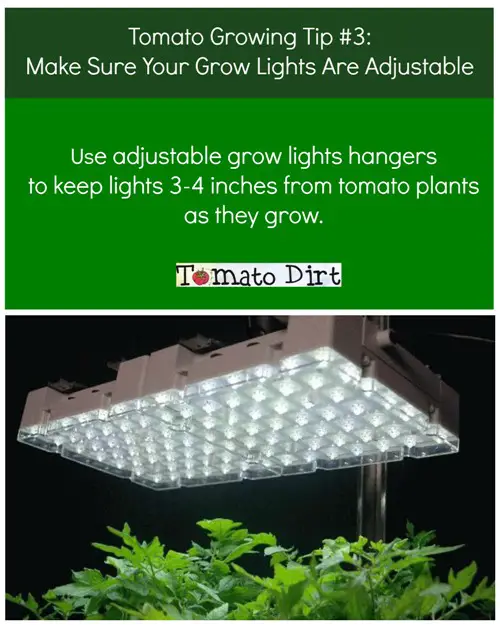 Image: Tomato Dirt
Get more tips for growing tomatoes on our Tomato Growing Tips Pinterest board.
---
Start and Grow Tomatoes Indoors
More Tips for Starting and Growing Tomatoes Indoors

That's it for now. More next time.

Until then, happy gardening!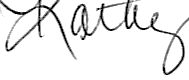 Kathy with Tomato Dirt
www.tomatodirt.com
Find us on Facebook!