Tomato Dirt Newsletter
Volume 10, Number 10
Dear Tomato Dirt reader,

Welcome back to Tomato Dirt! A couple times a month, we'll send you this newsletter packed with tips about growing tomatoes and using them.
---
Best Tips for Growing Tomatoes: Bestseller in 89 Countries
THE tomato-growing Bible and best-seller in 89 countries: How to Grow Juicy Tomatoes.

Two horticulturalists combine forces to give you advice about the right way to prune, fertilize, water and stake tomatoes. You'll be able to diagnose pest and disease problems using step by step priceless information, illustrated with 260 full color photos.

Get the book and you'll also get 6 free bonuses, including the Family Tomato Cookbook and a database of 1300 varieties of tomatoes. More details here.

---
Tomato Dirt is on Pinterest
Join us on Pinterest! Browse our 100+ boards (and growing) for all kinds of tomato inspiration and practical information: growing tomatoes, tomato seeds, cold frames for tomatoes, tomato books, tomato greenhouses, , indoor tomatoes – even crafts to do with a tomato theme. Happy pinning!
---
FEATURE: Should You Prune Your Tomato Plants - and If So, When?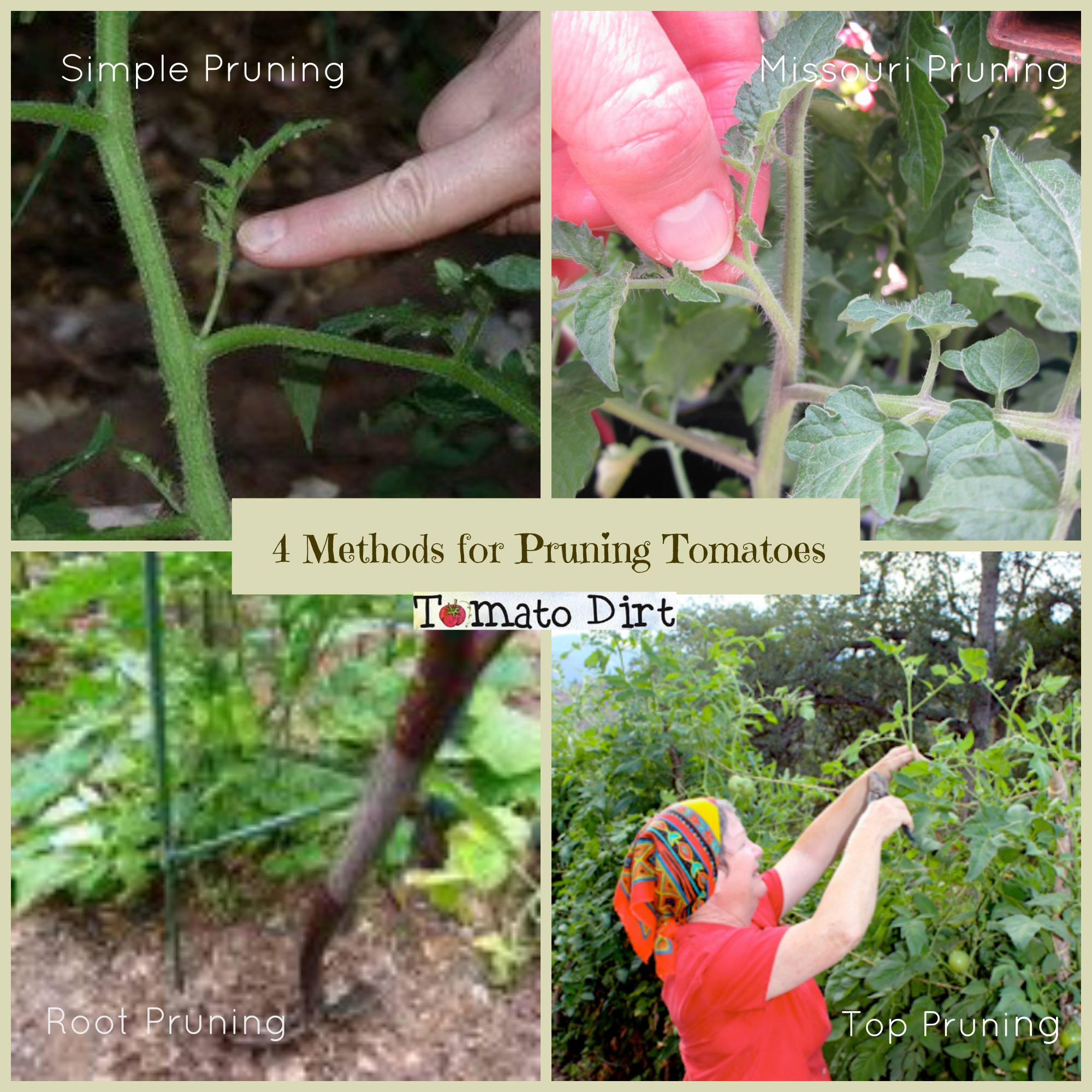 Image: Tomato Dirt
When should you prune your tomato plants? The type of pruning you use varies at different points in the growing season.
Simple pruning: this method allows you to cut back suckers that produce weak fruit and drain energy away from the main plant. Simple pruning is best done early in the season when plants are working hard to put out leaves, blossoms, and fruit, allowing them to concentrate their efforts.
Missouri pruning: this modified version of simple pruning allows you to pinch off sucker tips rather than at the base of the shoot, thereby reducing shock to the plant.
Root pruning: this approach lets you to strengthen a tomato plant by pruning its roots with a spade, a few inches from the base of the plant, forcing the plant to mature. The best time to root prune is after fruit has developed but just before it begins to ripen.
Top pruning: this is best done towards the end of the season, about a month before frost. Clip the top of the tomato plant above the last blossom, which prompts the plant to finish producing the fruit already on the vine.
Find out more tips and how-tos for pruning your tomato plants … and be sure to check out our Pruning Tomatoes board on Pinterest for more pruning ideas.
---
How to Grow Anything: 75% Off for Tomato Dirt Readers
Join horticulture expert Melinda Myers in learning "How to Grow Anything" and get step-by-step gardening tricks for growing vegetables, herbs, and fruit … now 75% off for Tomato Dirt readers. And check out other online courses at Bluprint for special discounts, too! Learn more here.

---
How Much Soil Do You Need for Your Containers and Raised Beds? Calculate for Free
Good soil is the single most important ingredient for a good garden. Raised beds and containers give you an immediate advantage over a regular garden, because you can fill them with a blend of soil that's superior to the native soil in your yard.
But it can be confusing to know what to mix (and how much) into your containers and raised bed. Enter our good friends at Gardener's Supply. They provide you with this nifty online calculator to help you compute the amount of soil you need for your raised bed or planter. Just enter your container or bed's measurements and POOF! – you've got a list of proportions.
You'll find plenty of other handy information on the Soil Calculator page, including how much compost to use, tips about re-using potting soil, and how to mix your container or raised bed soil together. Plus, it's free. Check it out (and how much) into your containers and raised bed!
---
Tomato Growing Tip: When to Start Simple Pruning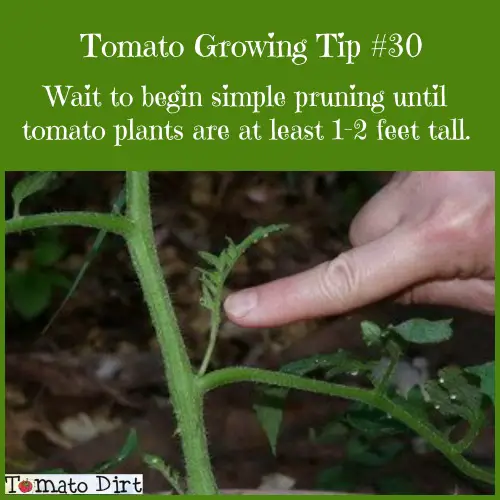 Image: Tomato Dirt
Get more tips for growing tomatoes on our Tomato Growing Tips Pinterest board.
---
Check Out These Tools for Pruning
More about Pruning Tomatoes

That's it for now. More next time.

Until then, happy gardening!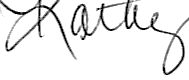 Kathy with Tomato Dirt
www.tomatodirt.com
Find us on Facebook!