Tomato Dirt Newsletter
Volume 10, Number 4
Dear Tomato Dirt reader,

Welcome back to Tomato Dirt! A couple times a month, we'll send you this newsletter packed with tips about growing tomatoes and using them.
---
Get the Dirt on Raised Beds
Even if you don't have a lot of time for gardening, you can still have a productive vegetable garden, no matter the size.
How? Start with a raised bed. It's the shortcut to a plentiful harvest, even in the first year.
Our good friends at Gardener's Supply have put together oodles of helpful information about growing tomatoes, edibles, and flowers in raised beds .
Here's a quick start guide to raised bed gardening raised bed gardening.
You can also watch this quick video about how to put together raised beds and take a look at to decide what you'd like to grow.
And you can browse different kinds of raised beds and kits to choose one that's best for you. Have fun!
---
Tomato Dirt is on Pinterest
Join us on Pinterest! Browse our 100+ boards (and growing) for all kinds of tomato inspiration and practical information: growing tomatoes, tomato seeds, cold frames for tomatoes, tomato books, tomato greenhouses, , indoor tomatoes – even crafts to do with a tomato theme. Happy pinning!
---
FEATURE: 3 Top Tips for Growing Tomatoes in Raised Garden Beds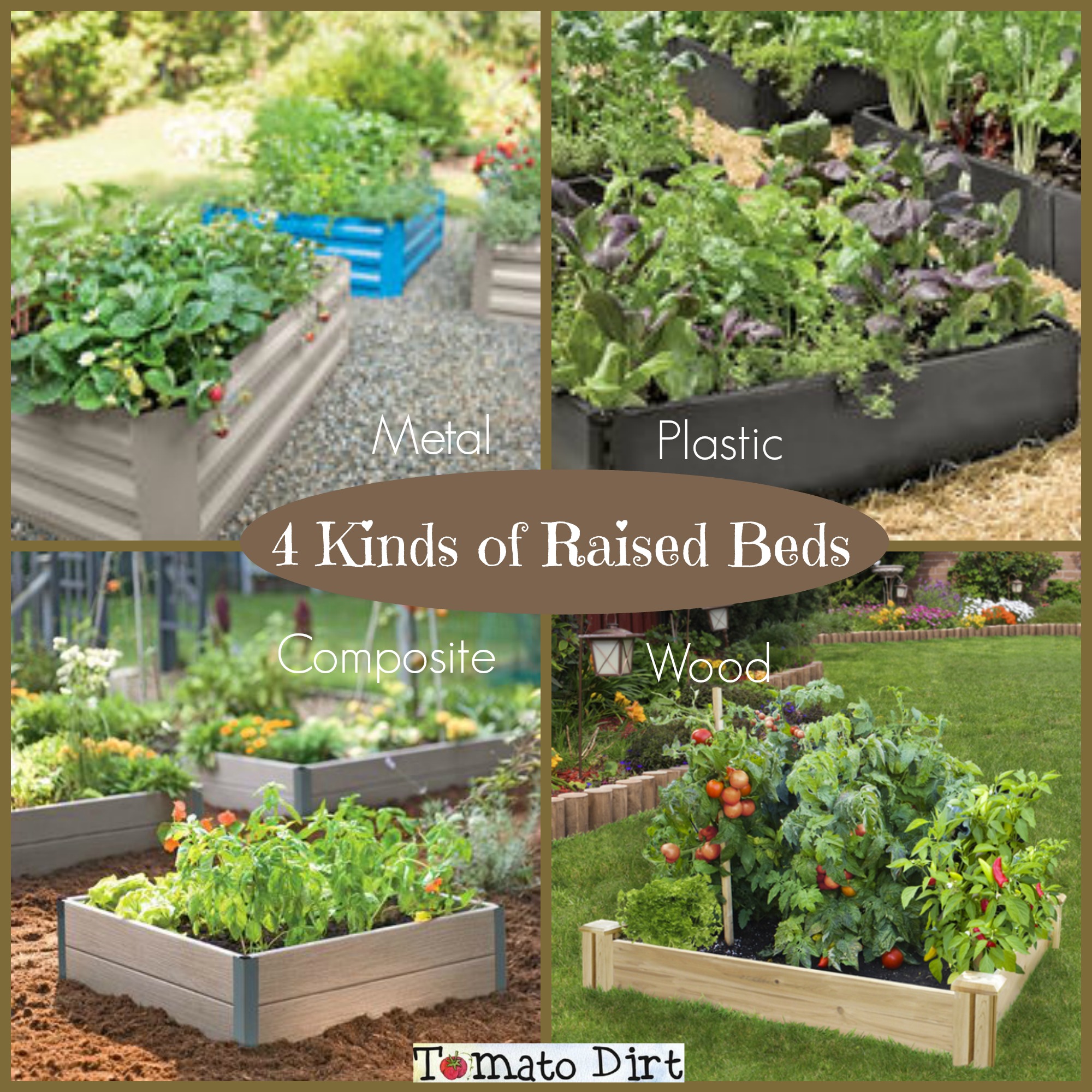 Image: Tomato Dirt

Growing tomatoes in raised beds is one of the easiest and practical approaches to gardening. Here's how to get started.

Choose the best spot. The best raised bed sites for tomatoes are level, well-draining, and close to a water source. Select a spot that receives at least eight hours of direct sun daily.


Prepare the soil. Create an outline of your raised bed with string, garden hose, or even flour. Then work the soil so that roots in the raised bed can penetrate the soil below, at least 12-18 inches. Remove sod, loosen the soil with a tiller or spade, and add organic matter.


Choose materials. Select edging materials for the beds that is long-lasting so you can grow tomatoes year after year. Chose from the four main kinds of materials used to make raised beds: plastic, recycled composite, galvanized steel, and wood. See more about each of these 4 materials to make the best choice for you.


Read more about growing tomatoes in raised beds … and get more ideas for raised garden beds for tomatoes on our Raised Beds for Tomatoes Pinterest Board.
---
Best Tips for Growing Tomatoes: Bestseller in 89 Countries
THE tomato-growing Bible and best-seller in 89 countries: How to Grow Juicy Tomatoes.

Two horticulturalists combine forces to give you advice about the right way to prune, fertilize, water and stake tomatoes. You'll be able to diagnose pest and disease problems using step by step priceless information, illustrated with 260 full color photos.

Get the book and you'll also get 6 free bonuses, including the Family Tomato Cookbook and a database of 1300 varieties of tomatoes.

---
200+ New Introductions for the Garden!
From the new Bodacious Tomato to Darkstar Hybrid Tomato to all kinds of seeds, plants and gardening products ..
Be sure to see the latest new introductions for your garden this spring from our friends at Burpee .

And right now, get 20% off your order of $60 or more. Learn more .
---
Tomato Growing Tip: How Wide Should You Make Your Raised Bed?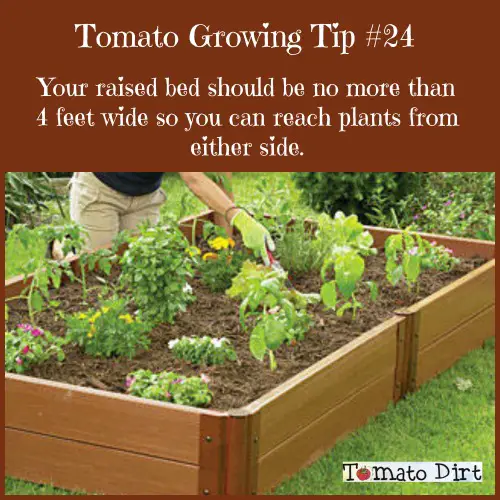 Image: Tomato Dirt
Get more tips for growing tomatoes on our Tomato Growing Tips Pinterest board.
---
Get a Lift With Raised Bed Options
More Tips for Raised Beds and Container Tomatoes

That's it for now. More next time.

Until then, happy gardening!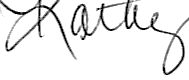 Kathy with Tomato Dirt
www.tomatodirt.com
Find us on Facebook!