Tomato Dirt Newsletter
Volume 8, Number 25
Dear Tomato Dirt reader,

Welcome back to Tomato Dirt! A few times a month, we'll send you this newsletter packed with tips about growing tomatoes and using them.
---
Fall Clearance Deals On Composters, Raised Beds, More
Save money on composters, raised beds, containers, and more for your garden, or get your holiday shopping done early. Our good friends at Gardener's Supply are offering clearance items and early bird holiday deals to Tomato Dirt readers. Browse their sale marketplace for great deals before the holiday rush.
---
Tomato Dirt is on Pinterest
Join us on Pinterest! Browse our 100+ boards (and growing) for all kinds of tomato inspiration and practical information: growing tomatoes, tomato seeds, cold frames for tomatoes, tomato books, tomato greenhouses, , indoor tomatoes – even crafts to do with a tomato theme. Happy pinning!
---
FEATURE: Fall Garden Clean Up Is a Snap with This Checklist
Use this Fall Cleaning Check List to clean up your vegetable garden and prepare for winter. You can download and print a copy, too.

These few simple steps at season's end don't take much time now, but can help you save a lot of time in the spring. A bit of effort now gives you a healthier tomato crop and vegetable garden, too. Plus, you'll have the tidiest garden area on the block.

You don't want to yank your tomato plants out of the ground if they are still producing. On the other hand, you want to make sure you have the chance to clear up the garden before rains and snow have their say.

What's a gardener to do?

Here's a tip: know the first frost date for your local area. Plan garden clean up into your schedule accordingly and then watch the weather closely. Tomatoes cannot withstand frost, so once Jack pays a visit to your garden, your plants will be finished for this season.

Then take these steps… Read the full fall cleaning checklist … and be sure to get more helpful tips on our Garden Clean Up Pinterest Board.
---
Best Tips for Growing Tomatoes

---
Tomato Growing Tip: Mark Where You Grew Crops This Year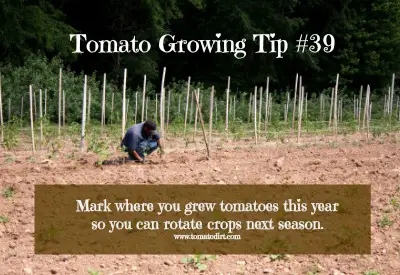 Image: Tomato Dirt
Get more tips for growing tomatoes on our Tomato Growing Tips Pinterest board.
---
What You Need for Garden Clean Up
More Tips for Fall Garden Clean Up

That's it for now. More next time.

Until then, happy gardening!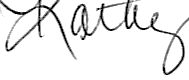 Kathy with Tomato Dirt
www.tomatodirt.com
Find us on Facebook!