Tomato Dirt Newsletter
Volume 6, Number 18
Dear Tomato Dirt reader,

Welcome back to Tomato Dirt! A couple of times a month, we'll send you this newsletter packed with tips about growing tomatoes and using them.
---
Dig It … Rake It … Clean It Up!
The right tool can make all the difference in the garden. Make sure you have what you need for the end of season and garden clean up.Take a look at the most popular gadgets used by gardeners like you!

---
Tomato Dirt is on Pinterest!
Join us on Pinterest! Browse our 100+ boards (and growing) for all kinds of tomato inspiration and practical information: growing tomatoes, tomato seeds, cold frames for tomatoes, tomato books, tomato greenhouses, , indoor tomatoes – even crafts to do with a tomato theme. Happy pinning!
---
FEATURE: Take End of Season Notes about Your Tomato Garden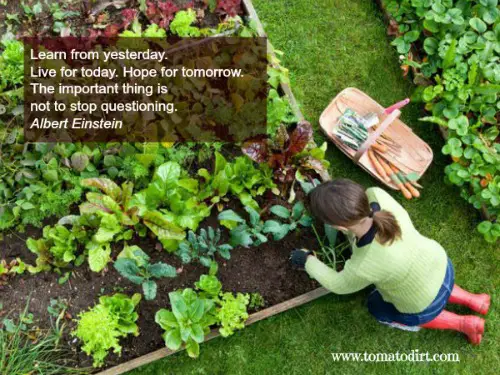 Image: Tomato Dirt
Learn from this year's tomatoes! As the end of season approaches, take notes about your tomato garden. You will be glad you did come next spring.
Your personal gardening notes may be the most valuable resource you can rely on for next year's crop (followed by Tomato Dirt as a close second, of course!) Where you put your notes does not really matter. Use a notebook, computer file, gardening journal, or whatever place works for you.
What kind of notes you take will be unique to you, too. For instance, maybe you planted only one or two tomato varieties … but perhaps your climate had considerable weather swings this year. Meanwhile your sister, who lives 3 states away, planted 10 types of tomatoes and her region had a consistent weather pattern. Her tomato garden notes will look different from yours.
Refer to the checklist here or download your own copy to take notes about your tomato crop and pieces of information you want to remember for next year. You can even make copies for each tomato variety you planted. Fill out the checklist and keep it in your garden notebook so you have a head start next spring!
Read the full end of season tomato checklist here … and be sure to check out our Garden Clean Up Pinterest board for more helpful information.
---
Best Tips for Growing Tomatoes

---
Tomato Growing Tip #39: Mark Rows So You Can Rotate Tomatoes Next Year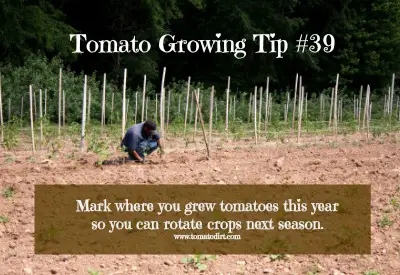 Image: Tomato Dirt
Get more tips for growing tomatoes on our Tomato Growing Tips Pinterest board.
---
Get Ready For Next Season - Now!
More End of Season Tomato Gardening Tips

That's it for now. More next time.

Until then, happy gardening!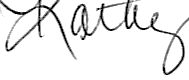 Kathy with Tomato Dirt
www.tomatodirt.com
Find us on Facebook!