Tomato Dirt Newsletter
Volume 5, Number 14
Dear Tomato Dirt reader,

Welcome back to Tomato Dirt! Once or twice a month, we'll send you this newsletter packed with tips about growing tomatoes and using them.
---
Take Online Classes in Gardening, Cooking, Crafts, and More - At YOUR Convenience

---
Best Tips for Growing Tomatoes

---
Tomato Dirt is on Pinterest!
Join us on Pinterest! Browse our 100+ boards (and growing) for all kinds of tomato inspiration and practical information: growing tomatoes, tomato seeds, cold frames for tomatoes, tomato books, tomato greenhouses, , indoor tomatoes – even crafts to do with a tomato theme. Happy pinning!

---
FEATURE: Small Tomatoes? Weak Tomato Plants? Check for Phosphorus Deficiency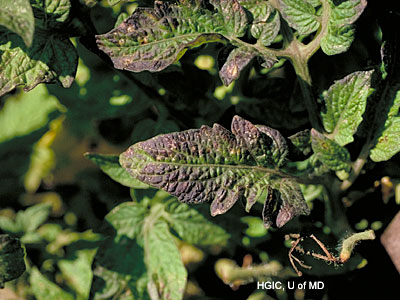 Image: UMD Extension

Phosphorus plays a key role for healthy tomato plants. It helps convert nutrients into usable building blocks (proteins and nucleic acids), which allow the tomato plant to grow.

And phosphorus converts energy. It serves as a go-between for two kinds of energy in the metabolic process: high energy (ATP) and low energy (ADP).

If your tomato plant can't convert nutrients to energy building blocks or can't gain and release energy, then the plant can't grow.

One big tip that your tomato plants are phosphorus-deficient are reddish-purplish leaves. But look for these other symptoms in your tomato plants too:
Your tomato plant grows slowly.
It may be dwarfed, stunted, or stressed.
As the growing season progresses, the tomato plant will appear to be younger than it is.
Once-healthy plants lose vigor.
Fruit will be smaller and there will be less of it.
If you suspect your tomato plants are phosphorus-deficient, use a simple soil test to find out the nutrient's levels. You can amend the soil easily (here's how.)
Learn more about phosphorus deficiency in tomatoes …
… and get more helpful tips about other problems on tomato leaves on our Tomato Problems Pinterest Board.
---
Tomato Growing Tip #14: When to Use a Do-It-Yourself Soil Test to Save Money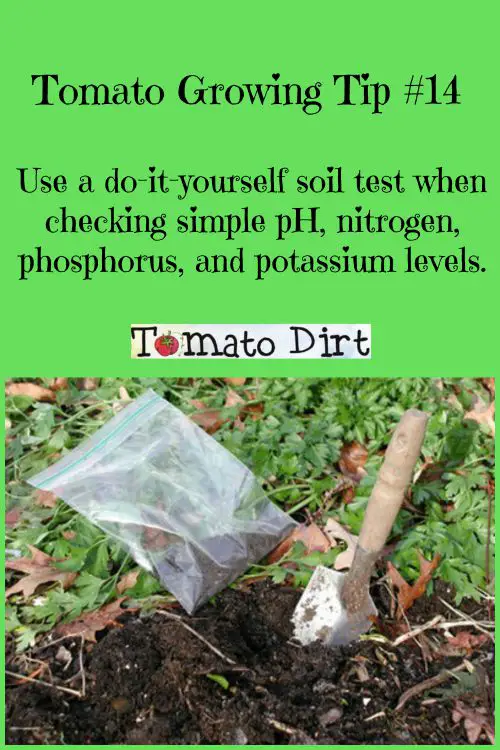 Image: Tomato Dirt
Get more tips for growing tomatoes on our Tomato Growing Tips Pinterest board.
---
Use These to Check for and Correct Tomato Deficiencies
More Tomato Problems and What To Do About Them

That's it for now. More next time!

Until then, happy gardening!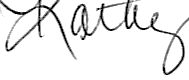 Kathy with Tomato Dirt
www.tomatodirt.com
Find us on Facebook!