Tomato Dirt Newsletter
Volume 5, Number 12
Dear Tomato Dirt reader,

Welcome back to Tomato Dirt! Once or twice a month, we'll send you this newsletter packed with tips about growing tomatoes and using them.
---
Pick 'Em In Their Prime
See the most popular garden hand tools used for picking tomatoes by gardeners like you. Take a look.

---

---
Tomato Dirt is on Pinterest!
Join us on Pinterest! Browse our 100+ boards (and growing) for all kinds of tomato inspiration and practical information: growing tomatoes, tomato seeds, cold frames for tomatoes, tomato books, tomato greenhouses, , indoor tomatoes – even crafts to do with a tomato theme, now that cold weather is here. Happy pinning!

---
FEATURE: How to Pick Tomatoes in Their Prime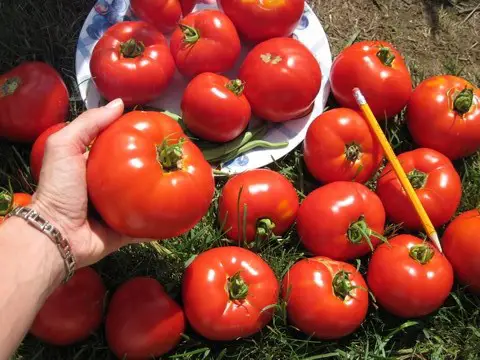 Image: The Country Basket
Once a tomato is picked, the fruit is cut off from its main oxygen source. But even when a tomato is picked before it is ready, it continues to ripen. Its sugars are now processed without a steady supply of oxygen and are converted into compounds that promote decay -- ketones, aldehydes, and alcohols. Sugar decay impacts taste.
That's why you want to pick tomatoes in their prime! Look for these tips your tomato tells you to let you know it's ready to be picked.
The tomato shows its true color. A red tomato has turned red on the vine (yellow tomatoes have turned yellow, striped tomatoes show their stripes, and so forth).
The tomato's color is even. Ripe red tomatoes don't have one side that's green. The entire tomato has color. (An exception: see Tomato Growing Tip, below.)
The tomato is a bit soft when squeezed. Some gardeners say its density is "in between firm and soft."
Get more helpful info about picking tomatoes …
… and get more helpful tips for picking tomatoes on our Harvesting Tomatoes Pinterest Board.
---
Tomato Growing Tip #12: When to Pick Heirloom Tomatoes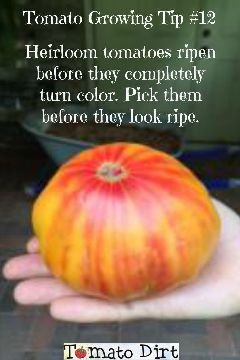 Image: Tomato Dirt
Get more tips for growing tomatoes on our Tomato Growing Tips Pinterest board.
---
Gear To Help You Pick Tomatoes
More About Picking Tomatoes

That's it for now. More next time!

Until then, happy gardening!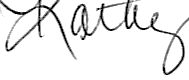 Kathy with Tomato Dirt
www.tomatodirt.com
Find us on Facebook!