Tomato Dirt Newsletter
Volume 5, Number 11
Dear Tomato Dirt reader,

Welcome back to Tomato Dirt! Once or twice a month, we'll send you this newsletter packed with tips about growing tomatoes and using them.
---
Be a Drip!
See the best-selling garden hoses used by gardeners like you. Take a look.

---

---
Tomato Dirt is on Pinterest!
Join us on Pinterest! Browse our 100+ boards (and growing) for all kinds of tomato inspiration and practical information: growing tomatoes, tomato seeds, cold frames for tomatoes, tomato books, tomato greenhouses, , indoor tomatoes – even crafts to do with a tomato theme, now that cold weather is here. Happy pinning!

---
FEATURE: Why a Tomato Cracks and What To Know About It




Image: Tomato Dirt

Extreme growing conditions – like heat or drought followed by downpours – can mean tomato cracks cut their way through your crop.

Here's how it happens: after drought or heat, tomato plants get too much water too fast. The fruit grows quickly as it absorbs the extra water, but the tomato skin can't stretch to accommodate the extra fluid. Cracking alleviates pressure. Here's what you need to know about tomato cracks:
Cracks are most common during warm, wet weather or during a wet spell that follows a drought.
Keep watering even throughout the season. You can't control the weather, but you can keep your plants on a regular watering schedule when it doesn't rain.
Pick cracked tomatoes as soon as possible to prevent fruit from getting infected.
Yes – you can eat tomatoes with cracks! Simply cut away the affected part of the fruit.
Next season, avoid excessive tomato cracks by planting crack-resistant varieties like Daybreak, Early Girl, Earl of Edgecombe, Heinz 1350, Jet Star, Juliet, Mountain Delight, Mountain Pride, and Valley Girl.
Get more helpful info about tomato cracks …
… and identify other tomato problems on our Tomato Problems Pinterest Board.
---
Tomato Growing Tip #11: Two Kinds of Tomato Cracks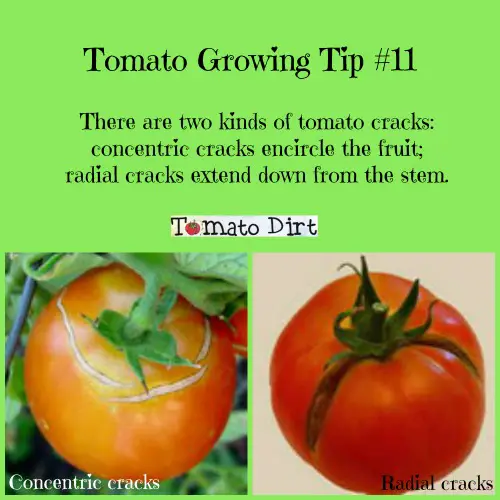 Image: Tomato Dirt
Get more tips for growing tomatoes on our Tomato Growing Tips Pinterest board.
---
Watering Helps to Prevent Tomato Cracks
More Tomato Problems from Growing Conditions

That's it for now. More next time!

Until then, happy gardening!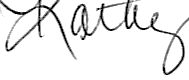 Kathy with Tomato Dirt
www.tomatodirt.com
Find us on Facebook!