Tomato Dirt Newsletter
Volume 4, Number 10
Dear Tomato Dirt reader,

Welcome back to Tomato Dirt! Once or twice a month, we'll send you this newsletter packed with tips about growing tomatoes and using them.

---
Tomato Dirt is on Pinterest!
Join us on Pinterest! Browse our 100+ boards (and growing) for all kinds of tomato inspiration and practical information: growing tomatoes, tomato seeds, cold frames for tomatoes, tomato books, tomato greenhouses, , indoor tomatoes – even crafts to do with a tomato theme, now that cold weather is here. Happy pinning!

---
Feature: 4 Ways to Stake Tomatoes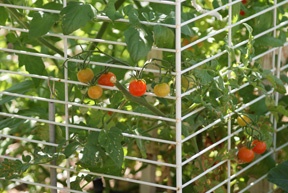 Image: Bridget Morningstar

Staking tomatoes takes a little bit of work. But it has distinct advantages that help you have a healthier, bigger crop. Plus, some types of tomato staking are taken care of once, early in the season – and then you're done.

Check out 4 ways to stake your tomato plants to get bigger fruit, earlier fruit, healthier fruit, better air circulation … and more space in your garden.

Find out more advantages and tips about staking tomatoes so you can have healthy, productive tomatoes all season long.

And check out how other gardeners stake tomatoes on our Staking Tomatoes Pinterest board.
---
Avoid This Big Mistake When Staking Tomatoes
If you wait to stake tomatoes until they need it (several weeks into the season), you will damage the root system as you press stakes, cages, ladders, trellising, or poles into the soil. Stake tomatoes soon after setting them out in the garden.

Learn about other mistakes to avoid when planting your tomatoes so you can get your crop off to a good start this season.
---
Check Out These Helps for Staking Tomatoes
| | | |
| --- | --- | --- |
| Tomato Cage XL Pro Series | Foam Ties for Tomato Staking | Tomato Cages from Gardener's Supply |
More about Staking Tomatoes

That's it for now. More next time!

Until then, happy gardening!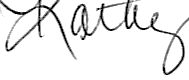 Kathy with Tomato Dirt
www.tomatodirt.com
Find us on Facebook!