Tomato Dirt Newsletter
Volume 3, Number 6
Dear Tomato Dirt reader,

Welcome back to Tomato Dirt! Once or twice a month, we'll send you this newsletter packed with tips about growing tomatoes and using them.
------------------------------------------------------------------
Tomato Dirt is on Pinterest!
Join us on Pinterest! Browse our 20+ boards for all kinds of tomato inspiration and practical information: exciting tomato gardens, tomatoes just off the vine, different tomato varieties, tomato art – even gardening quotes. Check our our page. Happy pinning!

FEATURE: How to Plant Tomatoes with Rock Star Results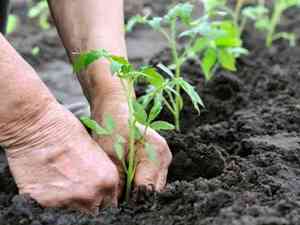 Image: NPR
It's planting season in the northern hemisphere. (Southern hemisphere gardeners, we know you're nearly done harvesting and saving seeds. Be sure to let us know what you've learned this season when you post on our Facebook page.)
Your fingers have been itching to get into the dirt for weeks. So when it comes time to set out tomatoes in the garden you want to make sure you do it right.
Take these key steps to treat your tomato plants like VIPs and get rock star results this season.
Choose an area that gets sun
Tomato plants thrive when they get 6-8 hours of direct sun a day. When you think you have a perfect place to set them, stop and look up. Are tree limbs overhead – branches that have not yet leafed out? If so, move elsewhere.
Make sure the soil is warm
You think you don't like chilly feet? Tomatoes hate being cold. The first few inches of the soil are warmer than those below. Consider using the trench method for planting tomatoes, allowing plants to lie horizontally in that warmth. And remember, just because you've passed your first frost date doesn't mean the soil is ready. Make sure evenings stay warmer than 50ºF and days are above 70ºF before you plant.
Pick a cloudy or overcast day to plant
You'll reduce stress on your plants and they will thank you by adapting quickly.
Give them a snack
Throw a scoop of compost, a scoop of bone meal, and a handful of fertilizer in the hole. Mix it thoroughly. Tomatoes are big feeders. They will appreciate the extra nutrients and reward you with strong, rapid growth.
Use TLC with the stem
Tomatoes are hardy plants, but as seedlings they are vulnerable. Handle with care. Help leggy seedlings by pinching off the seedling's lowest leaves and burying a good part of the stem below the soil. But use caution when burying the stem, particularly if it is especially long. Lay plants in a trench to keep plants warm and to allow the plant to develop extra roots along the stem.
Prevent thirst
Water newly-planted tomatoes daily for at least a week to help them get established.
Stake now
Place tomato stakes or cages around newly-planted tomatoes as part of the planting process. If you wait, you risk disturbing their root systems.
Get more how-tos and tips for setting out tomato plants in the garden with success.
-----------------------------------------------------------------
Introducing … Tomato Masters Bragging Rights Competition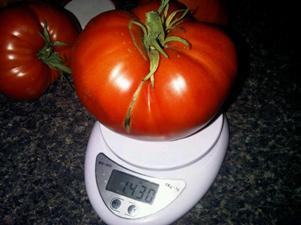 Image: www.bugvibes.com
Tomato Dirt introduces Tomato Masters … a friendly competition among tomato gardeners as we cheer each other on to tomato-growing success.
Our idea is simple. Tomato gardeners are a sociable and supportive bunch. We like seeing others' gardens and produce. It's fun to share with each other, learn from each other, and admire each others' tomatoes.
So here's the dirt. Our first series of Tomato Masters Bragging Rights will go to the gardener who sends us documentation of largest tomato, by weight.
During this first go-round, we will give 3 awards:
Tomato Master Bragging Rights June 2013
Tomato Master Bragging Rights July 2013
Tomato Master Bragging Rights August 2013
Read all the details and how to enter on our new Tomato Masters page.
--------------------------------------------------------------
More on Planting Tomatoes in the Garden …

That's it for now. More next time!

Until then, happy gardening!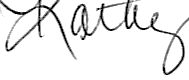 Kathy with Tomato Dirt
www.tomatodirt.com
Find us on Facebook!