Tomato Dirt Newsletter
Volume 2, Number 16
Dear Tomato Dirt reader,

Welcome back to Tomato Dirt! Once or twice a month, we'll send you this newsletter packed with tips about growing tomatoes and using them.
Drying Tomatoes Made Easy and Quick
Check out these brief Q & A's that give you the dirt on drying and dehydrating tomatoes.



Photo: biggirlssmallkitchen.com

Q. What kind of tomatoes are best for drying?
A. Roma tomatoes (also called Italian, paste, or plum tomatoes) are the hands-down favorite for drying because they have more flesh and less seeds than most other varieties. Beefsteak tomatoes work less well for drying because they have high amounts of gel around seeds.

Q. What are the best ways to dry tomatoes?
A. Dehydrated tomatoes: tomatoes are dried in a food dehydrator
Sun dried tomatoes: tomatoes are dried outside in the sun or in a very hot automobile
Oven-dried tomatoes: tomatoes are dried in your kitchen oven
Microwave-dried tomatoes: tomatoes are dried in a microwave

Q. What's most important when it comes to drying tomatoes?
A. Control the drying temperature. The optimum temperature range for drying tomatoes is 130º-140ºF. At lower temperatures (<90ºF), tomatoes will dry too slowly, allowing bacteria and mold to develop. At higher temperatures (>160ºF), tomatoes will harden on the outside but remain soft on the inside, promoting spoiling.
Let the air circulate. Make sure tomatoes don't touch when you dry them. Allow at least ½" in between them for even drying.
Read more quick and easy tips about drying tomatoes.
Food Dehydrators: The Most Reliable Method for Drying Tomatoes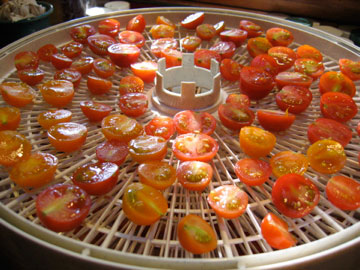 Photo: dorisandjillycook.com

Dehydrating tomatoes is the most reliable of drying methods. A food dehydrator is able to maintain a consistent temperature. Air is circulated with a small blower or fan. Most are equipped with thermostats and some are equipped with timers.

More advantages to drying tomatoes with a food dehydrator
Dehydrators produce the best quality dried food of any drying method
Dehydrators don't need sunny weather
Dehydrators allow you to control temperature and air circulation so tomatoes dry evenly.
Dehydrators don't heat up your kitchen; they can be operated on a porch, garage, or anywhere there's an electric source
More on drying tomatoes ...
Get special fall deals and coupons for your garden!



That's it for now. More next time!

Until then, happy gardening!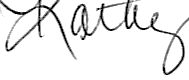 Kathy with Tomato Dirt
www.tomatodirt.com
Find us on Facebook!