Tomato Dirt Newsletter
Volume 13, Number 18
Dear Tomato Dirt reader,

Welcome back to Tomato Dirt! A couple times a month, we'll send you this newsletter packed with tips about growing tomatoes and using them.
---
How to Preserve All That Garden Goodness
Bath canner or pressure canner? Enamel or aluminum? Find out what to look for in kitchen canners and dehydrators …

Canners and dehydrators let you store and use tomatoes all year long.

Plus, they make great gifts. Check out other handy kitchen gear like scales, drying racks, pickling crocks, tomato presses, kitchen snips … even cheese making kits and other DIY kits from our good friends at Garden Supply.

They've also got plenty of tutorials you can use to DIY dried flowers … storing apples … making pepper jelly or tomato chutney or your own Bloody Mary mix.

Browse the dozens of different food preservation, kitchen gear, and gardening gadgets offered to Tomato Dirt readers. Have fun!
---
NEW! Check for tomato growing tips each day on our Facebook page
Here's the dirt: Tomato Dirt's long-standing Facebook page was recently hacked. For your safety and privacy, we closed it.
But never fear! We've started a new page with good security. (Join right here).
You're invited to like the page and get plenty of tomato growing tips. And please share the new page with other gardeners you know!
Hop on over to Facebook and click "Like" right now, while you're thinking about it.
---
FEATURE: 6 Ways to Store Tomatoes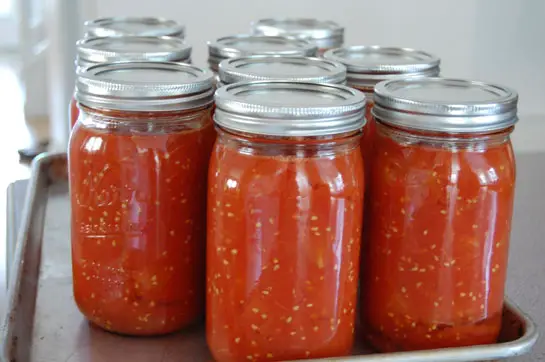 Image: Tomato Dirt

Nothing can take the place of a fresh tomato. But storing all that just-picked goodness can be problematic.

Store tomatoes by canning, freezing, or drying. They're the top three methods of preserving tomatoes. Which is the best? Each has benefits and drawbacks …

Hang unripened tomatoes in a cool place. By cutting a tomato branch and hanging it in your basement or garage, you can extend your crop.

Store tomatoes on the counter. Underripe tomatoes can sit several days or several weeks on your counter or windowsill and …

Store tomatoes in the refrigerator. Seriously? Chilled tomatoes goes against the grain of every serious foodie. But yes,you can pop a very ripe tomato or a sliced one into the icebox as long as you …
---
Best Tips for Growing Tomatoes: Bestseller in 89 Countries
THE tomato-growing Bible and best-seller in 89 countries: How to Grow Juicy Tomatoes. Two horticulturalists combine forces to give you advice about the right way to prune, fertilize, water and stake tomatoes.

You'll be able to diagnose pest and disease problems using step by step priceless information, illustrated with 260 full color photos.

Get the book and you'll also get 6 free bonuses, including the Family Tomato Cookbook and a database of 1300 varieties of tomatoes. More details here.

---
Tomato Growing Tip: How to Store Sliced Tomatoes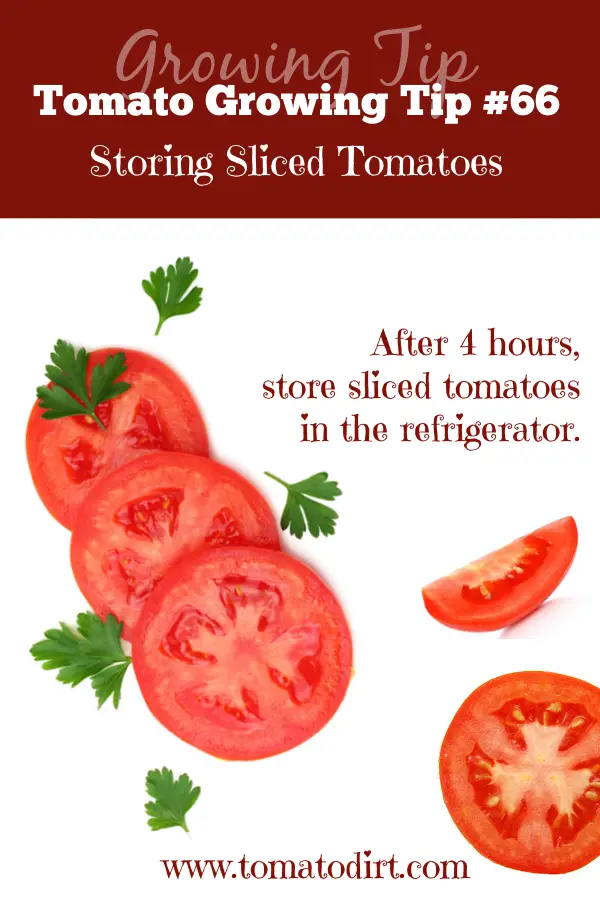 Image: Tomato Dirt
Get more tips for growing tomatoes on our Tomato Growing Tips Pinterest board.
---
End of Summer Sale: 50% or more off
Our good friends at Gardener's Supply are cleaning out their garden shed inventory with clearance items in their Gardening Outlet, Kitchen & Home Outlet, Indoor/Outdoor Living Outlet, and even Clothing & Footwear Outlet.
You can get 50% or more off on garden supplies, kitchen and home, pots and planters, tools, gifts, trellises, raised beds, and all kinds of other garden gear and goodies.
It's a great time to restock your supplies or replace your tools. Browse here .
The clearance outlet stock changes from day to day as items are added. Check now and check back later, too. Browse the deals!
---
More on Storing Tomatoes

That's it for now. More next time.

Until then, happy gardening!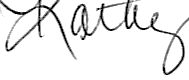 Kathy with Tomato Dirt
www.tomatodirt.com
Find us on Facebook!