Tomato Dirt Newsletter
Volume 13, Number 11
Dear Tomato Dirt reader,

Welcome back to Tomato Dirt! A couple times a month, we'll send you this newsletter packed with tips about growing tomatoes and using them.
---
Tomato-Dirters: Save 30% on plants, 50% on seeds through May 31
Tomatoes … veggies … herbs … flowers … fruits …
If you're starting this year's garden or in the midst of planting it you can still get great deals on plants and seeds.
Our friends at Burpee have veggies, herbs, annuals, perennials, and fruit plants on sale NOW through May 30 at 30% off. And you can still get deals on seeds, too, for 50% off. (Don't forget that quality seeds typically are viable up to 10 years after the packaging date, so this is a good time to buy seeds for next year if you've already planted yours.)
And since Burpee has been around for more than 140 years, they're able to answer your gardening questions, too.
Click here and use code PLANTS523 to save 30% off on ALL plants through May 31.
Click here to save 50% off all seeds with code SEEDS523 .
---
NEW! Check for tomato growing tips each day on our Facebook page
Here's the dirt: Tomato Dirt's long-standing Facebook page was recently hacked. For your safety and privacy, we closed it.
But never fear! We've started a new page with good security. (Join right here).
You're invited to like the page and get plenty of tomato growing tips. And please share the new page with other gardeners you know!
Hop on over to Facebook and click "Like" right now, while you're thinking about it.
---
FEATURE: What Your Container Tomatoes Need to Succeed
Container tomatoes present a few unique challenges when compared with growing tomatoes in a garden plot.

For one thing, you need to water containers on a consistent schedule – even daily during the height of summer. A container tomato plant cannot extend its roots more deeply into the soil, so you need to make amends for that.

Garden tomatoes, on the other hand, grow deep root systems and can thrive when watered in tandem with local rainfall.

Yet another issue: staking.

Container tomatoes don't have that luxury of sprawling across the garden floor. Typically, they're in a limited space. Plus, tomatoes in pots have balance working against them ..
---
Best Tips for Growing Tomatoes: Bestseller in 89 Countries
THE tomato-growing Bible and best-seller in 89 countries: How to Grow Juicy Tomatoes. Two horticulturalists combine forces to give you advice about the right way to prune, fertilize, water and stake tomatoes.

You'll be able to diagnose pest and disease problems using step by step priceless information, illustrated with 260 full color photos.

Get the book and you'll also get 6 free bonuses, including the Family Tomato Cookbook and a database of 1300 varieties of tomatoes. More details here.

---
Tomato Growing Tip: Best tomato varieties for containers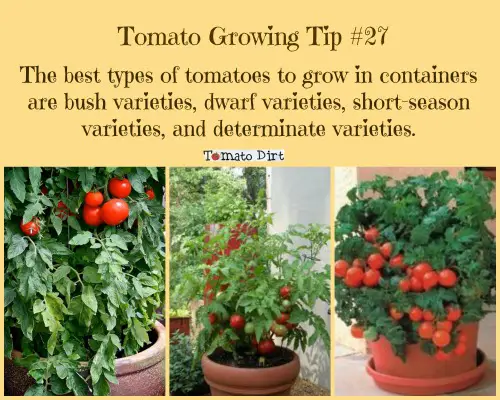 Image: Tomato Dirt
Get more tips for growing tomatoes on our Tomato Growing Tips Pinterest board.
---
Get the Dirt on Container Gardening
Even if you don't have a lot of time for gardening, you can still have a fresh produce.

How? Grow veggies in containers. It's the shortcut to a plentiful harvest.

Our good friends at Gardener's Supply have put together oodles of helpful information about growing tomatoes, edibles, and flowers in containers .

Here's a quick start guide to the best crops for container gardening .

You can also watch this quick video about how to put together tomato grow bags and take a look at to decide what you'd like to grow.

And you can browse different kinds of pots, containers – even self-watering planters to choose one that's best for you. Have fun!
---
More about Growing Tomatoes in Pots

That's it for now. More next time.

Until then, happy gardening!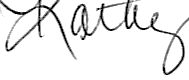 Kathy with Tomato Dirt
www.tomatodirt.com
Find us on Facebook!