Tomato Dirt Newsletter
Volume 11, Number 19
Dear Tomato Dirt reader,

Welcome back to Tomato Dirt! A couple times a month, we'll send you this newsletter packed with tips about growing tomatoes and using them.
---
Yard Sale Deals at Gardener's Supply
Our good friends at Gardener's Supply are cleaning out their garden shed inventory with clearance items in their Gardening Outlet, Kitchen & Home Outlet, Indoor/Outdoor Living Outlet, and even Clothing & Footwear Outlet. Browse their yard sale marketplace for great deals.
---
Tomato Dirt is on Pinterest
Join us on Pinterest! Browse our 100+ boards (and growing) for all kinds of tomato inspiration and practical information: growing tomatoes, tomato seeds, cold frames for tomatoes, tomato books, tomato greenhouses, , indoor tomatoes – even crafts to do with a tomato theme. Happy pinning!
---
FEATURE: When It Gets Cold, Do This One Thing to Protect Tomatoes
Cold temperatures can damage or destroy your tomato plants. Protecting tomatoes from frost and freezing is important to having healthy crop – both at the beginning of the season and at the end.
The best step you can take to protect your tomatoes from cold is to pay attention to the weather forecast.
It sounds so simple, but it is an important point. If you stay aware of temperatures and take precautions, you can enjoy a longer harvest.
There's a difference between a frost and a freeze. When you hear a frost or freeze warning, take appropriate steps to protect your plants …
Read more about protecting tomatoes from frost and freezing … and be sure to check out more ways to protect tomatoes on our Tomatoes and Frost Pinterest board.
---
Best Tips for Growing Tomatoes: Bestseller in 89 Countries
THE tomato-growing Bible and best-seller in 89 countries: How to Grow Juicy Tomatoes. Two horticulturalists combine forces to give you advice about the right way to prune, fertilize, water and stake tomatoes.

You'll be able to diagnose pest and disease problems using step by step priceless information, illustrated with 260 full color photos.

Get the book and you'll also get 6 free bonuses, including the Family Tomato Cookbook and a database of 1300 varieties of tomatoes. More details here.

---
Tomato Growing Tip: When to Use Tunnel Row Covers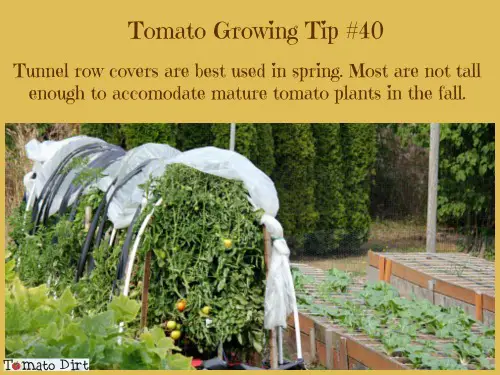 Image: Tomato Dirt
Get more tips for growing tomatoes on our Tomato Growing Tips Pinterest board.
---
Make Your Own Compost This Fall
Compost: there's a reason it's called "black gold." Adding compost to your soil is the single best thing you can do for your plants.

And you don't need to pay top dollar for this amazing soil enricher. You can create your own compost right in your backyard using simple kitchen and garden refuse.

The best way to do that is by using a compost bin.

Building and maintaining a compost pile is the surest, easiest way to become a better gardener. And it's great for the environment.

Not only will you be producing the best possible food for your garden, but by watching leaves, eggshells, orange rinds, and grass clippings become transformed into rich compost filled with earthworms and other soil creatures, you'll help re-use resources that you might otherwise throw away. Check out dozens of different kinds of compost bin models offered to Tomato Dirt readers from our friends at Gardener's Supply – and choose the one that works best for you.
---
More Tips for Protecting Tomatoes

That's it for now. More next time.

Until then, happy gardening!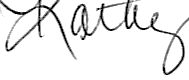 Kathy with Tomato Dirt
www.tomatodirt.com
Find us on Facebook!