Tomato Dirt Newsletter
Volume 11, Number 13
Dear Tomato Dirt reader,

Welcome back to Tomato Dirt! A couple times a month, we'll send you this newsletter packed with tips about growing tomatoes and using them.
---
Be a Drip
Consistent watering: it's a must for a healthy tomato crop, especially in the heat of the summer. But did you know there are all kinds of garden hoses at prices for all gardener's budgets? It's true. Take a look.

---
Tomato Dirt is on Pinterest
Join us on Pinterest! Browse our 100+ boards (and growing) for all kinds of tomato inspiration and practical information: growing tomatoes, tomato seeds, cold frames for tomatoes, tomato books, tomato greenhouses, , indoor tomatoes – even crafts to do with a tomato theme. Happy pinning!
---
FEATURE: Tomato Cracks and What To Do About Them




Image: Tomato Dirt

Extreme growing conditions – like heat or drought followed by downpours – can mean tomato cracks cut their way through your crop.

Here's how it happens: after drought or heat, tomato plants get too much water too fast. The fruit grows quickly as it absorbs the extra water, but it expands too fast. The tomato skin can't stretch to accommodate the extra fluid. Cracking alleviates pressure.

Here's what you need to know about tomato cracks:
Cracks are most common during warm, wet weather or during a wet spell that follows a drought.
Keep watering even throughout the season. You can't control the weather, but you can keep your plants on a regular watering schedule when it doesn't rain.
Pick cracked tomatoes as soon as possible to prevent fruit from getting infected.
Yes – you can eat tomatoes with cracks! Simply cut away the affected part of the fruit.
Next season, avoid excessive tomato cracks by planting crack-resistant varieties like Daybreak, Early Girl, Earl of Edgecombe, Heinz 1350, Jet Star, Juliet, Mountain Delight, Mountain Pride, and Valley Girl.
Get more helpful info about tomato cracks …
… and identify other tomato problems on our Tomato Problems Pinterest Board.
---
Best Tips for Growing Tomatoes: Bestseller in 89 Countries
THE tomato-growing Bible and best-seller in 89 countries: How to Grow Juicy Tomatoes. Two horticulturalists combine forces to give you advice about the right way to prune, fertilize, water and stake tomatoes.

You'll be able to diagnose pest and disease problems using step by step priceless information, illustrated with 260 full color photos.

Get the book and you'll also get 6 free bonuses, including the Family Tomato Cookbook and a database of 1300 varieties of tomatoes. More details here.

---
Danger: Don't Let Your Tomatoes Get Thirsty
Yes, it's good to be a drip when it comes to watering your garden! Tomatoes need 1-3 inches of water a week.

Hoses, nozzles, drip irrigation, water timers, rain gauges, soaker systems, watering cans, rain urns … check out all kinds of watering gadgets with our good friends at Gardener's Supply.

This is the GS page where you can get all the different kinds of watering gear you need for your garden. It's so much fun to browse around. And if you find something at a bargain price - well, go for it!

Plus, they donate 8% of their profits to home and garden improvement programs.

But apart from all that good stuff, their watering gadgets and irrigation supplies are quality products that will last season after season. Check them out here.
---
Tomato Growing Tip: Two Kinds of Tomato Cracks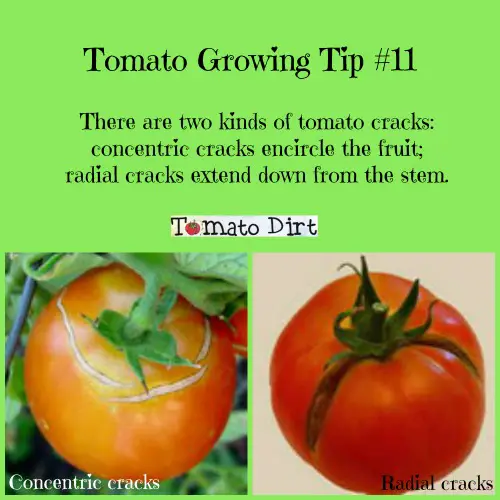 Image: Tomato Dirt
Get more tips for growing tomatoes on our Tomato Growing Tips Pinterest board.
---
How to Water Well and Prevent Tomato Cracks
More about Tomato Problems

That's it for now. More next time.

Until then, happy gardening!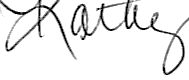 Kathy with Tomato Dirt
www.tomatodirt.com
Find us on Facebook!