Tomato Dirt Newsletter
Volume 10, Number 2
Dear Tomato Dirt reader,

Welcome back to Tomato Dirt! A couple times a month, we'll send you this newsletter packed with tips about growing tomatoes and using them.
---
200+ New Introductions for the Garden!
From the new Bodacious Tomato to Darkstar Hybrid Tomato to all kinds of seeds, plants and gardening products .. be sure to see the latest new introductions for your garden this spring from our friends at Burpee .


And right now, get 20% off your order of $60 or more. Learn more.
---
Tomato Dirt is on Pinterest
Join us on Pinterest! Browse our 100+ boards (and growing) for all kinds of tomato inspiration and practical information: growing tomatoes, tomato seeds, cold frames for tomatoes, tomato books, tomato greenhouses, , indoor tomatoes – even crafts to do with a tomato theme. Happy pinning!
---
FEATURE: Why 70% Tomato Gardeners Buy Tomato Seeds Online (And How You Can, Too)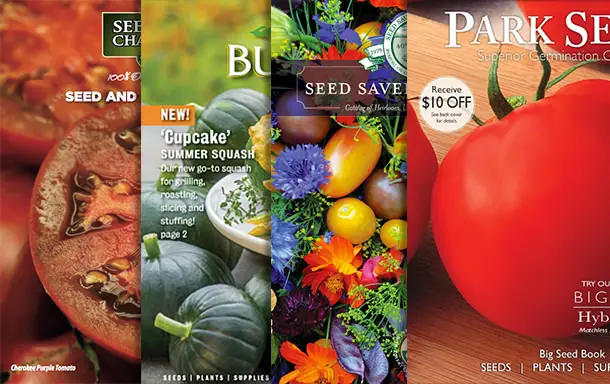 Image: The Garden Glove

Nearly 70 percent of gardeners say they buy most of their seeds from mail-order garden catalogs.

These vendors range from small proprietorships that sell only seeds saved and processed in house … to family businesses that have been around for a couple of generations … to seed cooperatives and even larger companies.

Tomato seed suppliers stay in business because they help you do what you want to do: grow healthy tomatoes.
Seed suppliers help you plan what to grow.Website photos and glossy catalogs are not just for inspiration, but for information too. Growing information, disease resistance, and yield help you choose what tomato varieties are best for your climate, your soil, and your garden.
Seed suppliers meet your specialty needs.Maybe you're looking for short-season tomato seeds … the best selection of paste tomatoes … or bi-color and striped tomato varieties. Different tomato seeds suppliers specialize in all kinds of tomato seeds.
Seed suppliers help you save money.Some vendors offer small amounts of seeds for the home gardener and others provide bulk seed or wholesale prices. Seed suppliers specialize to help you save money.
Seeds suppliers help you save hassle. Maybe you don't live near a gardening center. Maybe you do … but the store doesn't have its seeds out early enough for you to start them on time or maybe the stores don't carry tomato varieties you want to grow. When it comes to ordering tomato seeds and other gardening gear, online vendors offer convenience and save you hassle.
Learn more about how to choose tomato seeds suppliers … and get more ideas on our Tomato Seeds Pinterest Board.
---
Best Tips for Growing Tomatoes: Bestseller in 89 Countries
THE tomato-growing Bible and best-seller in 89 countries: How to Grow Juicy Tomatoes.

Two horticulturalists combine forces to give you advice about the right way to prune, fertilize, water and stake tomatoes. You'll be able to diagnose pest and disease problems using step by step priceless information, illustrated with 260 full color photos.

Get the book and you'll also get 6 free bonuses, including the Family Tomato Cookbook and a database of 1300 varieties of tomatoes.

---
Tomato Seeds Half-Price Now Through January 20 ONLY
Choose from 418 favorite heirloom tomato varieties and tomato seed collections – up to 50% off regular retail prices during this once-a-year sale at TomatoFest.
Tomato seeds will last 3-5 years!
And TomatoFest guarantees its seeds.

Visit the TomatoFest store now to get best selection. Sale ends January 20.
---
Tomato Growing Tip: Seed Germination Rates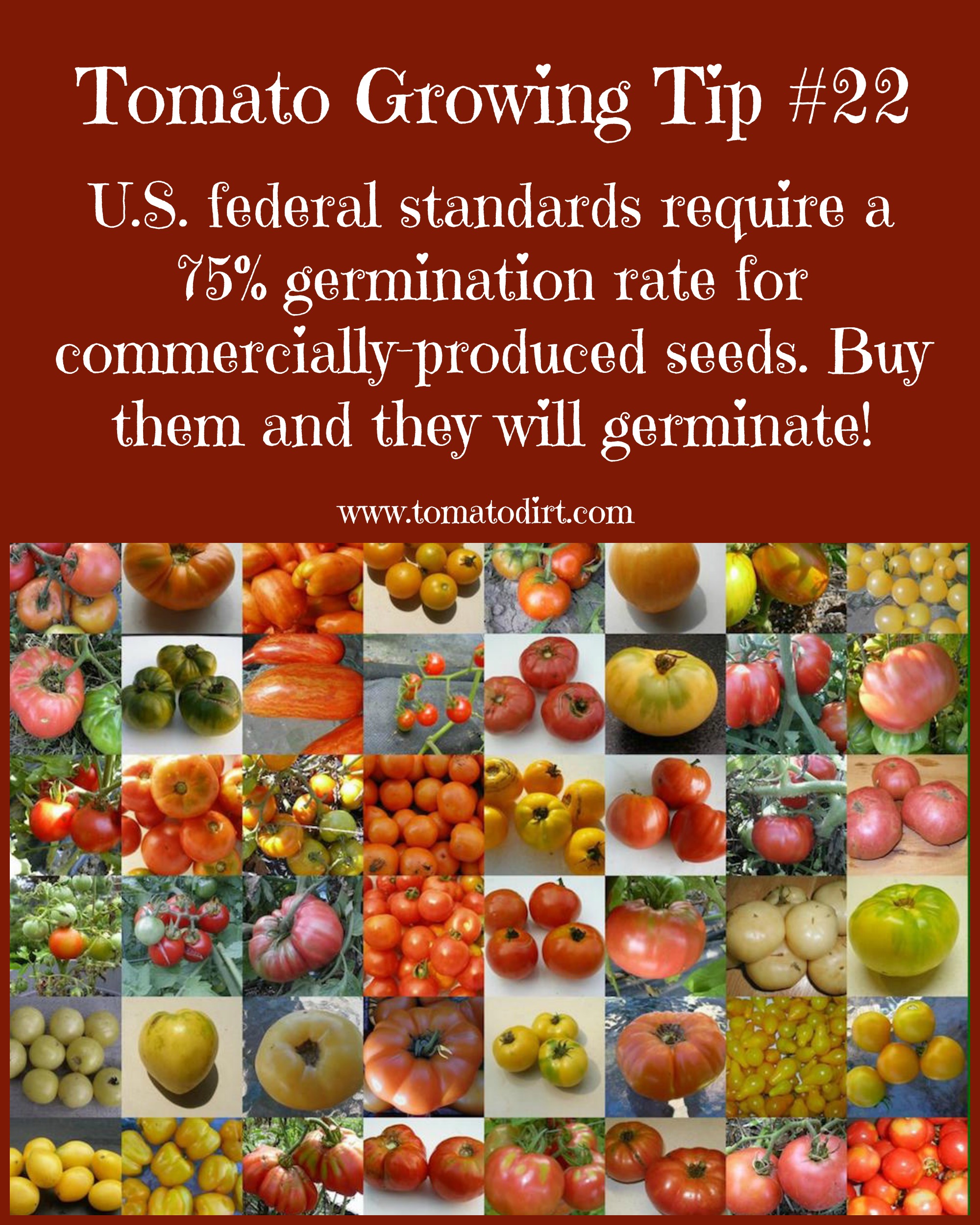 Image: Tomato Dirt
Get more tips for growing tomatoes on our Tomato Growing Tips Pinterest board.
---
Fun and Colorful Tomato Collections to Try
More Tips about Tomato Seeds

That's it for now. More next time.

Until then, happy gardening!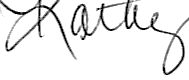 Kathy with Tomato Dirt
www.tomatodirt.com
Find us on Facebook!