Tomato Dirt Newsletter
Volume 9, Number 9
Dear Tomato Dirt reader,

Welcome back to Tomato Dirt! A couple times a month, we'll send you this newsletter packed with tips about growing tomatoes and using them.
---
Get Cagey
Tomato cages, bamboo poles, tomato towers, reusable staking ties, cage extensions, tomato clips, trellises, spiral supports … there's all kinds of ways to give your tomato plants the support they need.

One of my favorite sites to browse for gardening gear is Gardener's Supply. They've got an awesome selection of tomato cages and supports (and staking gear for other plants you grow, too, like roses, beans, peas, and container tomatoes.)

And great news if you find something and buy it at GS: their products are 100% guaranteed. Have fun browsing and getting ideas for your garden.
---
Tomato Dirt is on Pinterest
Join us on Pinterest! Browse our 100+ boards (and growing) for all kinds of tomato inspiration and practical information: growing tomatoes, tomato seeds, cold frames for tomatoes, tomato books, tomato greenhouses, , indoor tomatoes – even crafts to do with a tomato theme. Happy pinning!
---
FEATURE: 7 Tomato Planting Tips to Get Your Tomatoes Off to a Good Start
Your fingers have been itching to get into the dirt for weeks. So when it comes time to set out tomatoes in the garden you want to make sure you do it right.
Take these key steps to treat your tomato plants like VIPs and get rock star results this season.
Choose an area that gets sun.
Tomato plants thrive when they get 6-8 hours of direct sun a day. When you think you have a perfect place to set them, stop and look up. Are tree limbs overhead – branches that have not yet leafed out? If so, move elsewhere.
Make sure the soil is warm
You think you don't like chilly feet? Tomatoes hate being cold. The first few inches of the soil are warmer than those below. Consider using the trench method for planting tomatoes, allowing plants to lie horizontally. And remember, just because you've passed your first frost date doesn't mean the soil is ready. Make sure evenings stay warmer than 50ºF and days are above 70ºF before you plant.
Pick a cloudy or overcast day
You'll reduce stress on your plants and they will thank you by adapting quickly.
Give them a snack
Throw a scoop of compost, a scoop of bone meal, and a handful of fertilizer in the hole. Mix it thoroughly. Tomatoes are big feeders. They will appreciate the extra nutrients and reward you with strong, rapid growth.
Use TLC with the stem
Tomatoes are hardy plants, but as seedlings they are vulnerable. Handle with care. Help leggy seedlings by pinching off the seedling's lowest leaves and burying a good part of the stem below the soil. But use caution when burying the stem, particularly if it is especially long. Lay plants in a trench to keep plants warm and to allow the plant to develop extra roots along the stem.
Prevent thirst
Water newly-planted tomatoes daily for at least a week to help them get established.
Stake now
Place tomato stakes or cages around newly-planted tomatoes as part of the planting process. If you wait, you risk disturbing their root systems.
Get more how-tos and tips for setting out tomato plants in the garden with success. And check out our Planting Tomatoes Pinterest board for more helpful tips.
---
Best Tips for Growing Tomatoes: Bestseller in 89 Countries
THE tomato-growing Bible and best-seller in 89 countries: How to Grow Juicy Tomatoes.

Two horticulturalists combine forces to give you advice about the right way to prune, fertilize, water and stake tomatoes.

You'll be able to diagnose pest and disease problems using step by step priceless information, illustrated with 260 full color photos.

Get the book and you'll also get 6 free bonuses. More details here.

---
Tomato Growing Tip: Stake Plants Right Away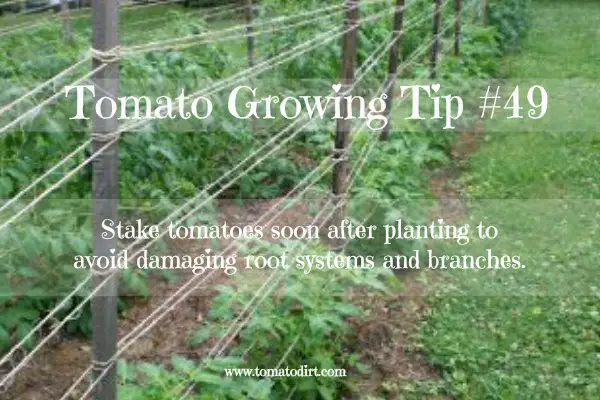 Image: Tomato Dirt
Get more tips for growing tomatoes on our Tomato Growing Tips Pinterest board.
---
Frost-Proof Your Tomato Plants after Planting
More Tomato Planting Tips

That's it for now. More next time.

Until then, happy gardening!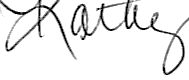 Kathy with Tomato Dirt
www.tomatodirt.com
Find us on Facebook!