Tomato Dirt Newsletter
Volume 8, Number 17
Dear Tomato Dirt reader,

Welcome back to Tomato Dirt! A few times a month, we'll send you this newsletter packed with tips about growing tomatoes and using them.
---
Get Wet
Hoses, nozzles, sprinklers, water timers, soil moisture meters … when it's time for water, does your garden have what it takes? Browse garden hoses and other watering gear that other gardeners use and love. Take a look.

---
Tomato Dirt is on Pinterest
Join us on Pinterest! Browse our 100+ boards (and growing) for all kinds of tomato inspiration and practical information: growing tomatoes, tomato seeds, cold frames for tomatoes, tomato books, tomato greenhouses, , indoor tomatoes – even crafts to do with a tomato theme. Happy pinning!
---
FEATURE: It's Good To Be a Drip When Watering Tomatoes
Tomatoes do best when watered slowly and deeply.

As water sinks down lower into the soil, the tomato's roots must follow suit and reach down further to absorb it. Deep watering helps tomato plants build strong root systems. Superficial watering allows roots to be lazy. If roots mustn't dig deep, they can float around the surface and get a drink the easy way.

Shallow root systems can lead to root damage and more stress for the plant during dry spells. So by watering slowly and deeply, you're practicing your own kind of "Gardener's Tough Love" with tomato plants.

There are three main watering techniques gardeners use with tomatoes:
Hand watering: time consuming, but requires only a hose and nozzle
Sprinkler: requires only a hose and sprinkler, but wets leaves and has a high rate of evaporation
Drip watering: has a bit higher initial cost, but you can use the set up each year – and is the most effective way to water tomatoes because … (keep reading)
Read more about watering tomatoes and check out other ways to water tomatoes on our Pinterest board.
---
How To Grow Anything: 75% (or More) Off for Tomato Dirt Readers
Join horticulture expert Melinda Myers in learning "How to Grow Anything" and get step-by-step gardening tricks for growing vegetables, herbs, and fruit … now 75% off for Tomato Dirt readers. Learn at your own pace – when you want, where you want - in this online course.Find out more here.

---
Tomato Growing Tip: Check the Soil Moisture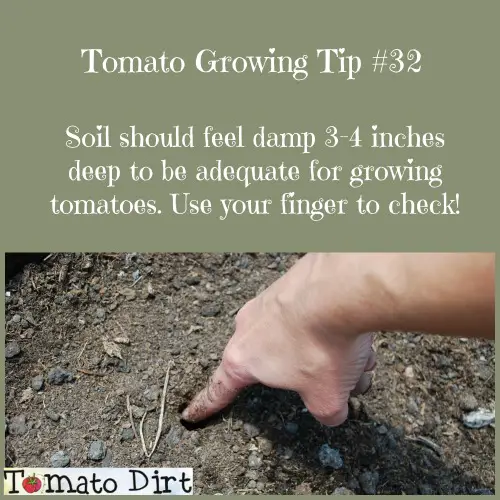 Image: Tomato Dirt
Get more tips for growing tomatoes on our Tomato Growing Tips Pinterest board.
---
Helpful Watering Gadgets
More Tips for Watering Tomatoes

That's it for now. More next time.

Until then, happy gardening!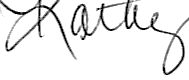 Kathy with Tomato Dirt
www.tomatodirt.com
Find us on Facebook!