Tomato Dirt Newsletter
Volume 8, Number 10
Dear Tomato Dirt reader,

Welcome back to Tomato Dirt! A few times a month, we'll send you this newsletter packed with tips about growing tomatoes and using them.
---
Get Cagey
Tomato cages, bamboo poles, tomato towers, reusable staking ties, cage extensions, tomato clips, trellises, spiral supports … there's all kinds of ways to give your tomato plants the support they need.
One of my favorite sites to browse for gardening gear is Gardener's Supply. They've got an awesome selection of tomato cages and supports (and staking gear for other plants you grow, too, like roses, beans, peas, and container tomatoes.)
And great news if you find something and buy it at GS: their products are 100% guaranteed. Have fun browsing and getting ideas for your garden.
---
Tomato Dirt is on Pinterest!
Join us on Pinterest! Browse our 100+ boards (and growing) for all kinds of tomato inspiration and practical information: growing tomatoes, tomato seeds, cold frames for tomatoes, tomato books, tomato greenhouses, , indoor tomatoes – even crafts to do with a tomato theme. Happy pinning!
---
FEATURE: Should I Stake My Tomato Plants? Pros and Cons
It's true – staking tomatoes takes a little bit of work. Some gardeners swear by it. Others, not so much.

Staking has distinct advantages that help you have a healthier, bigger crop. Plus, some types of tomato staking are taken care of once, early in the season – and then you're done. On the other hand, there's the time and effort involved in staking.

Does the type of tomatoes you grow factor into your decision to stake or not to stake? Yep. Indeterminates (those which keep growing and producing fruit all season until frost) are most in need of staking. Determinate tomatoes (those which stop growing at a certain size and set their fruit at one time) have a more bushy habit, and may not need to be staked. (Read more about indeterminate and determinate tomatoes.)

Meanwhile, check out the advantages and disadvantages to staking tomatoes so you can decide for yourself which way to go this season. (Read more …)

(Psst. We stake our tomatoes. But you need to do what's best for your garden.)

And these tips on our Staking Tomatoes Pinterest board may help, too.
---
Best Tips for Growing Tomatoes
The world's number one tomato Bible. Advice on 1300 varieties, soil preparation, pruning; and extensive help with pests and diseases from a leading industry expert to help you have the biggest, tastiest crop ever.

---
Tomato Growing Tip: Don't Wait to Stake!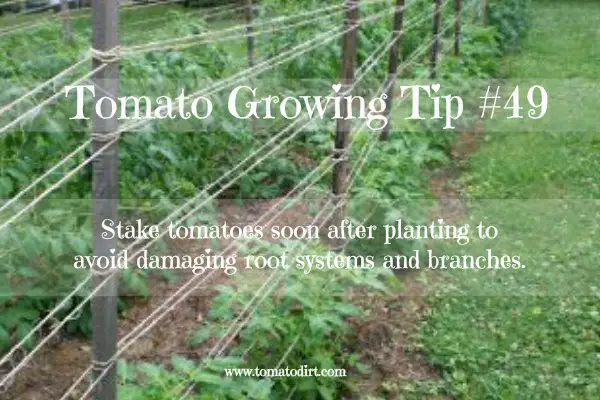 Image: Tomato Dirt
Get more tips for growing tomatoes on our Tomato Growing Tips Pinterest board.
---
Different Ways to Stake Tomatoes
More on Tying and Staking Tomatoes

That's it for now. More next time.

Until then, happy gardening!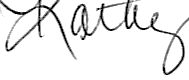 Kathy with Tomato Dirt
www.tomatodirt.com
Find us on Facebook!