Tomato Dirt Newsletter
Volume 8, Number 9
Dear Tomato Dirt reader,

Welcome back to Tomato Dirt! A few times a month, we'll send you this newsletter packed with tips about growing tomatoes and using them.
---
Did You Know There Were So Many Kinds of Garden Planters?
Indoor planters, outdoor planters, self-watering planters, patio or elevated or ceramic containers, hanging planters, window boxes, terrariums, potting benches, plant stands, brackets, hooks …

Container gardening is awesome!

Check out all kinds of containers and accessories at MyPotsandPlanters.com - the #1 online store for container gardeners.

PLUS, get $5 off orders over $25 ...

and free shipping on almost everything .

Have fun browsing and getting ideas!
---
Tomato Dirt is on Pinterest!
Join us on Pinterest! Browse our 100+ boards (and growing) for all kinds of tomato inspiration and practical information: growing tomatoes, tomato seeds, cold frames for tomatoes, tomato books, tomato greenhouses, , indoor tomatoes – even crafts to do with a tomato theme. Happy pinning!
---
FEATURE: Tomato Planting in Pots: What You Need and What To Do
Tomato planting in pots is not hard! You can grow tomatoes in pots on your patio, deck, sidewalk, or balcony.

And you can save money when you do it yourself.

First, gather your materials: your container, potting mix, a trowel, water source, drainage material for the bottom of the pot, tomato fertilizer, mulch, and of course – your tomato plant. (Get the complete list here).

Then follow these simple steps for planting:

1. Water tomato seedlings thoroughly in their nursery containers.
2. Prepare the potting mix by …


(Read the rest of the simple steps to take to plant tomatoes in pots ...


... and get more ideas and tips about planting and growing Container Tomatoes on our Pinterest board.)
---
Best Tips for Growing Tomatoes
The world's number one tomato Bible. Advice on 1300 varieties, soil preparation, pruning; and extensive help with pests and diseases from a leading industry expert to help you have the biggest, tastiest crop ever.

---
Tomato Growing Tip: Best Types of Tomatoes for Containers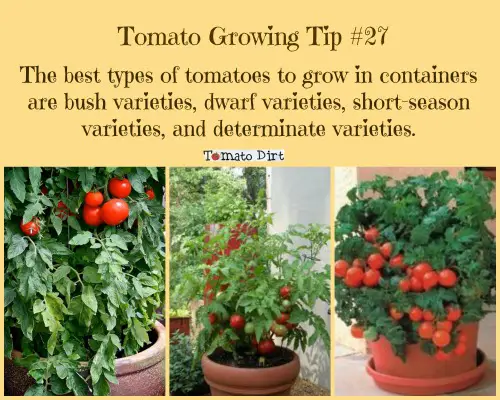 Image: Tomato Dirt
Get more tips for growing tomatoes on our Tomato Growing Tips Pinterest board.
---
Tomato Planter Ideas
More About Growing Tomatoes in Pots

That's it for now. More next time.

Until then, happy gardening!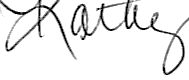 Kathy with Tomato Dirt
www.tomatodirt.com
Find us on Facebook!