Tomato Dirt Newsletter
Volume 7, Number 9
Dear Tomato Dirt reader,

Welcome back to Tomato Dirt! A couple of times a month, we'll send you this newsletter packed with tips about growing tomatoes and using them.
---
Spray Your Way to a Healthier Garden
Pump sprayers, backpack sprayers, nozzle sprayers with triggers … they come in all sizes. A garden sprayer is a must-have garden tool for feeding and treating your tomatoes, veggies, and flowers. Browse different types to choose a garden sprayer that works for you. Take a look!

---
Tomato Dirt is on Pinterest!
Join us on Pinterest! Browse our 100+ boards (and growing) for all kinds of tomato inspiration and practical information: growing tomatoes, tomato seeds, cold frames for tomatoes, tomato books, tomato greenhouses, , indoor tomatoes – even crafts to do with a tomato theme. Happy pinning!
---
FEATURE: Stake and Tie Up Your Tomatoes In 6 Easy Steps
Tomatoes grow vigorously. They continually send up new stems, branches, and blossoms. Staking tomatoes allows for better air circulation, gives them more room to grow, and prevents diseases. Tying up branches to stakes or cages prevents them from breaking.

Even if you don't stake or cage tomato plants right after planting, don't wait too long to take these steps.

How to tie up tomato plants

Locate the lower, thick part of the branch below a fork. (Do not tie branch tips to stakes as they are more likely to break.)
Wrap one end of the tie around the thick part of the branch and tie a granny (double) knot. To get the best tension, imagine you're making a knot around your finger. Don't pull too tightly or you will injure or choke the plant.
Gently stretch the tie to the …
Check the complete step-by-step directions that explain how to tie up tomato plants … and get more tomato staking tips on our Pinterest board.
---
Best Tips for Growing Tomatoes
The world's number one tomato Bible. Advice on 1300 varieties, soil preparation, pruning; and extensive help with pests and diseases from a leading industry expert to help you have the biggest, tastiest crop ever.

---
Tomato Growing Tip: Don't Wait to Stake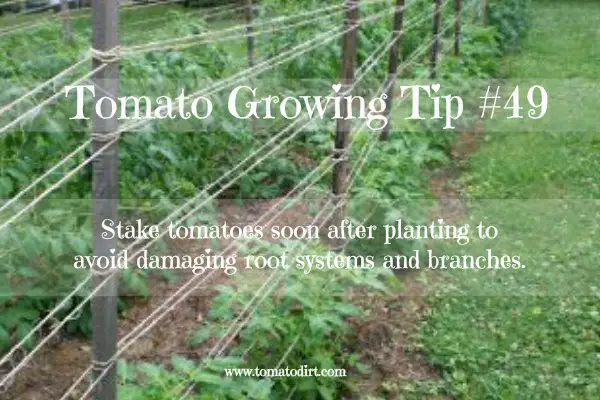 Image: Tomato Dirt
Get more tips for growing tomatoes on our Tomato Growing Tips Pinterest board.
---
Different Ways to Stake Tomatoes
More Tips for Staking Tomatoes

That's it for now. More next time.

Until then, happy gardening!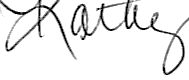 Kathy with Tomato Dirt
www.tomatodirt.com
Find us on Facebook!