Tomato Dirt Newsletter
Volume 6, Number 7
Dear Tomato Dirt reader,

Welcome back to Tomato Dirt! A couple of times a month, we'll send you this newsletter packed with tips about growing tomatoes and using them.
---
FREE Kitchen Gardener Planner for Tomato Dirt Readers!
Our friends at Gardener's Supply offer this FREE Kitchen Garden Planner
so you can create your own super-productive veggie garden, no matter how much or how little space you have. Customize a pre-planned garden or create your own using their cool online tools! Check it out here.



---
Tomato Dirt is on Pinterest!
Join us on Pinterest! Browse our 100+ boards (and growing) for all kinds of tomato inspiration and practical information: growing tomatoes, tomato seeds, cold frames for tomatoes, tomato books, tomato greenhouses, , indoor tomatoes – even crafts to do with a tomato theme. Happy pinning!
---
FEATURE: Plant These Companion Plants to Protect Your Tomatoes From Pests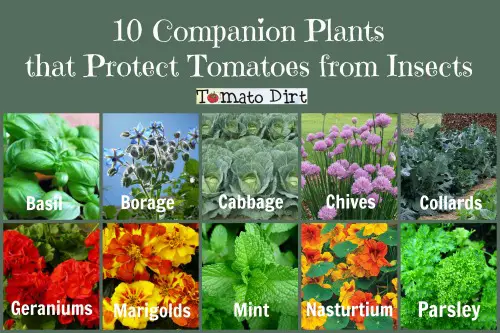 Image: USDA
You can protect tomatoes from pests with companion plants -- those vegetables, herbs, or flowers planted nearby that offer a special benefit to tomatoes. Companion plants behave a lot like good friends. 
We all know one of the benefits of good friends: they stick up for you when bullies threaten you, often protecting you from getting hurt.
Companion plants do that for tomatoes. Tomato plants are among the favorite menu items for certain insects, including aphids, whiteflies, and different types of beetles. Once these pests flit into your garden and discover your luscious, healthy tomato plants, suddenly it's Feast Time. But companion plants act as natural defenders against these tomato pests, either by repelling harmful insects or attracting helpful insects (to eat the harmful ones.)
Try these companion plants to protect your tomatoes from pests:
Basil: repels flies, mosquitoes; attracts bees
Borage: attracts bees and wasps
Cabbage: repels whiteflies, moths
Chives: repel many insects
Collard greens: repels flea beetles
Geraniums: repel cabbage worm, Japanese beetles
Marigolds: repel tomato worm, asparagus beetles, flea beetles, whiteflies, aphids
Mint: repels white cabbage moths, ants, rodents, flea beetles, fleas, aphids
Nasturtiums: repel whiteflies and aphids
Parsley: attracts hoverflies
Find out more tips about choosing companion plants to protect tomatoes. And be sure to check out our Companion Planting for Tomatoes board on Pinterest for more companion planting ideas.
---
Growing a Garden Should Be Easy - and Not Cost Much!
It is! You can save money and grow veggies even if you have a small space or no space. Learn more with this terrific report and step-by-step guide. Click Here!


---
Tomato Growing Tip #28: Basil, the Wonder Friend!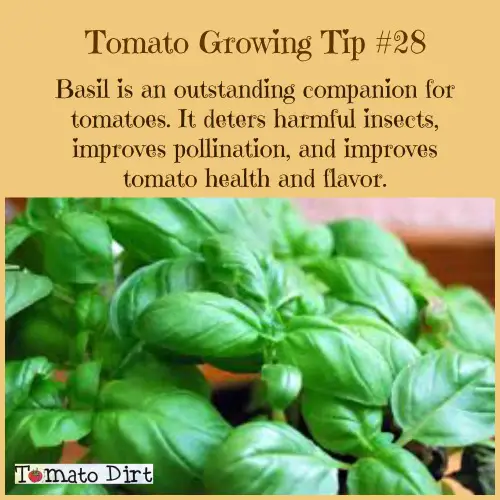 Image: Tomato Dirt
Get more tips for growing tomatoes on our Tomato Growing Tips Pinterest board.
---
Best Tips for Growing Tomatoes

---
Check Out These Helps for Planting Tomatoes and Their Friends
More About Healthy Tomato Planting

That's it for now. More next time.

Until then, happy gardening!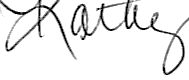 Kathy with Tomato Dirt
www.tomatodirt.com
Find us on Facebook!